Primary Media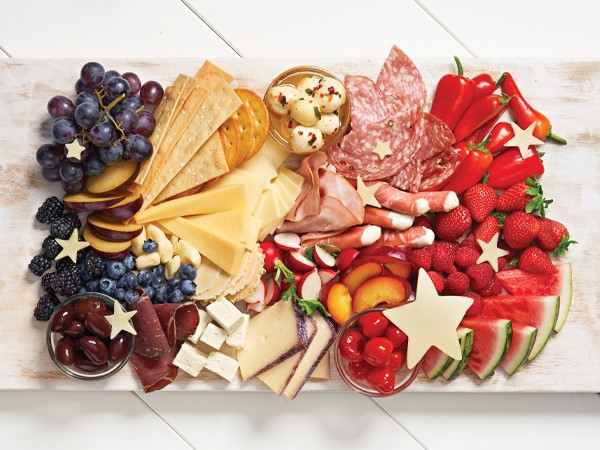 Description
If there's one thing Midwesterners know, it's that the 4th of July lands on the hottest day of the year. That's why we're whipping up red, white, and blue no-bake treats. That means you can whip up an amazing appetizer, snack, or dessert, without having to turn on your oven! Here's what we're making for this year's celebration...
American Flag Parfaits

Start your day off with a red, white, and blue flag breakfast. Layer chia seed pudding with fresh berries for a healthy and colorful breakfast that just so happens to fit the theme of the day!

Patriotic Charcuterie Board

Arrange patriotic colors of fruits, vegetables, cheese, and charcuterie on a wooden board. Add jarred peppers, olives, and assorted crackers. Cut slices of white cheese into stars using a cookie cutter and add to top for garnish.

Coconut-Berry Hydration Pops

Keep the kids hydrated in the July heat with these no-bake red, white, and blue coconut water and berry pops.

Firecracker Pretzel Rods

Dip Hy-Vee pretzel rods into melted Zoet chocolate. Place on parchment paper. Add blue and red M&M's chocolate candies; let dry. Peel apart strands of Twizzlers pull-n-peel cherry-flavored candy. Wrap each around rods using melted white chocolate to adhere ends; let dry.

Red, White, and Blue Yogurt Pops

Chill. Literally! To make these layered red, white, and blue yogurt pops, just blend raspberries and blueberries with Greek yogurt to create colorful layers. 

Red, White, and Blue Ice Cream Cones

Quick and easy! Make these white chocolate dipped cones and sprinkle with your favorite patriotic sprinkles. When you're ready to serve, just top with your favorite flavor of ice cream. To keep to the patriotic theme, we like to use It's Your Churn vanilla bean ice cream. YUM.

Easy Flag Dessert

Place a Hy-Vee Bakery unfrosted quarter sheet vanilla cake on a serving platter. Spread top of cake with thawed Hy-Vee frozen whipped topping. Arrange blueberries, raspberries, and strawberries on top to form a flag.

Red, White, and Blue Rice Krispie Cups

These easy Rice Krispie Cups are colored with red, white, and blue and only use the stovetop to make. No baking required!

All-American Cherry Bombs

This one is for the adults! Marinate cherries in Kentucky bourbon whiskey and dip in white chocolate and blue sprinkles for a no-bake treat. 

Red, White, and Blue Slushies

The kids deserve a special drink! It is a holiday after all! Blend ice and some pre-made fruit pops to make a slushy kid-approved mocktail.

Patriotic Berry Trifle

Grab a Hy-Vee Bakery angel food cake and turn it into a trifle layered with vanilla pudding and fresh berries for a refreshing red, white, and blue no-bake dessert. 

Red, White, and Blue Popcorn Trail Mix

This bowl of patriotic trail mix won't last long! All you need is popcorn and some delicious red, white, and blue mix-ins.