Food Love
13 Quick One-Pan Breakfast Recipes for Busy Mornings
Primary Media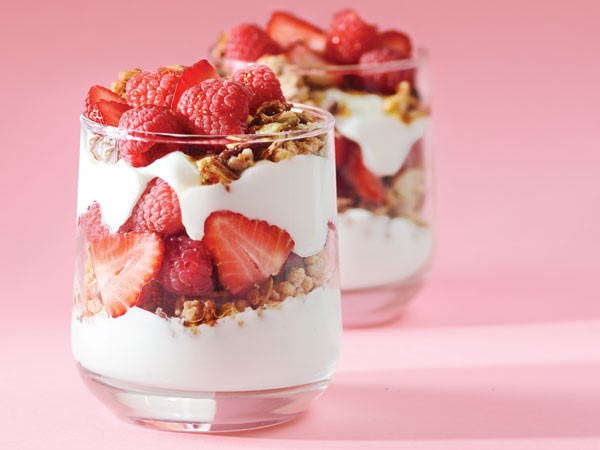 Description
These sweet, savory, and delicious breakfast recipes come together using just one pot, pan, or skillet. What makes them even better? They take just 30 minutes (sometimes less) to make from start to finish.
Sheet Pan Ancho Steak and Eggs

Steak and eggs are breakfast staples, but having everything cook on just one sheet pan is a total game changer.

Berry-Granola Parfaits

Layer this berry granola parfait with Sola granola which keeps sugars and carbs to a minimum.

One Skillet Biscuits and Gravy

Biscuits and gravy can become a household breakfast staple when it comes together in just one skillet.

Strawberry Smoothie Bowl

This stunning smoothie bowl is just as good as it looks. Feel free to mix up the flavors by using different fruits and flavored yogurt combinations.

Berry Crepe Cake

Eat cake for breakfast. Especially when it's made of crepes, fresh berries, Greek yogurt, and lemon curd.

Harissa Steak and Egg Breakfast Skillet

Harissa is a spicy ground chili paste that originated in Africa. We added it to spice up this steak and potato breakfast skillet. 

Caramel Apple German Pancake

Also called a Dutch Baby, this fluffy fall-spiced pancake bakes in a cast iron and is topped with a homemade caramel sauce and skillet-baked apples.

Boiler Garden Frittata

When in doubt, frittata it out. We love breakfast frittatas because you can follow the recipe exactly, or make your own variation with any type of fresh veggies you have on hand.

Sheet Pan Omelets

Treat everyone to their own customized omelet. Simply make the egg base and let your guests add their own toppings to this one-pan wonder.

Chipotle Pork Barbecue Breakfast Tacos

It's the breakfast you've been dreaming about, and it's hitting the table in 30 minutes. 

Chocolate Peanut Butter Cauliflower Oatmeal

Once you taste the sweet side of cauliflower, you might never go back. Check out this gluten-free and dairy-free version of peanut butter-chocolate "oatmeal" using riced cauliflower. 

Chicken and Waffles with Spicy Maple Syrup

Savory and sweet with a little smoky spice. This comfort food is easy to make and is sure to become a classic around your breakfast table.

Sheet Pan Pancakes

20 square pancakes all in one shot—that's the beauty of this brunch-friendly sheet pan recipe.