Primary Media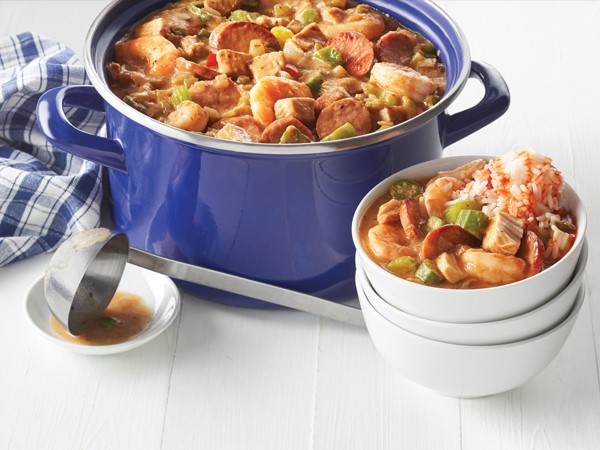 Description
Why Gulf shrimp? Because ... Gulf shrimp are wild caught, eat a natural diet, and come mostly from the Gulf of Mexico—that salty (a.k.a seasoned) body of water between Texas and Florida. Many people consider them the best because of their naturally sweet flavor and firm texture.
When buying shrimp, pay attention to the count. That number tells you how many shrimp are in a pound, which tells you how big or small the shrimp are. So, the lower the count, the bigger the shrimp will be. If you prefer jumbo-sized shrimp, look for a count of 16/20 or 21/25. If you prefer smaller shrimp, look for 51/60 or 43/50.
Now for the delicious part: recipes. Each of these dishes comes together in just one pan. And most of them are ready in less than 30 minutes. Love them already? We do, too.
Easy Sauteed Shrimp

Probably the best thing about shrimp, other than they're healthy, taste delicious, and go with everything, is that they cook in minutes. So if it's a fast dinner you're after, use this simple method for sauteeing shrimp. Then add them to pretty much anything—instant rice, pasta, veggie noodles, stir-fry ... anything.

Shrimp and Corn Chowder

A 15-minute seafood chowder is possible with a few pantry-friendly ingredients. This is one of those one-pot recipes that's so easy we summed it up in one step.

Veggie Noodle Shrimp Scampi

High in protein and low in carbs, this gluten-free "pasta" is a good one to meal prep for the next couple of nights. And it only takes 20 minutes. If you don't have a spiralizing or just want to save time, look for Hy-Vee Short Cuts spiralized zucchini noodles in the produce department.  

Tom Yum Vegetable and Shrimp Soup

Tom yum broth has a distinct savory and slightly sour taste that gives this shrimp soup an extra depth of flavor. We used the Culinary Tours brand, but you can easily substitute with regular broth. 

Cajun Chicken, Sausage, and Shrimp Gumbo

If you're gonna go for the Gulf shrimp, you might as well experience a signature dish of the Gulf coast of Louisiana: gumbo.

Shrimp 'N' Cauliflower Broccoli "Grits"

This healthful take on shrimp and grits uses a cauliflower-broccoli "rice" blend for an extra serving of veggies. Plus, start to finish, it takes about 15 minutes. 

Italian Fish Stew

The beauty of this recipe is the flexibility. Not crazy about mussels? Use sea scallops. Or more shrimp. Or any kind of seafood you like. 

Coconut Curry Shrimp Soup

If you love seafood, Thai food, and soup, you have found your recipe match. 

Shrimp, Lemon and Pea Cauliflower "Risotto"

This lemony, savory, Parmesan-y mock risotto is one of our favorite ways to prepare shrimp.