Primary Media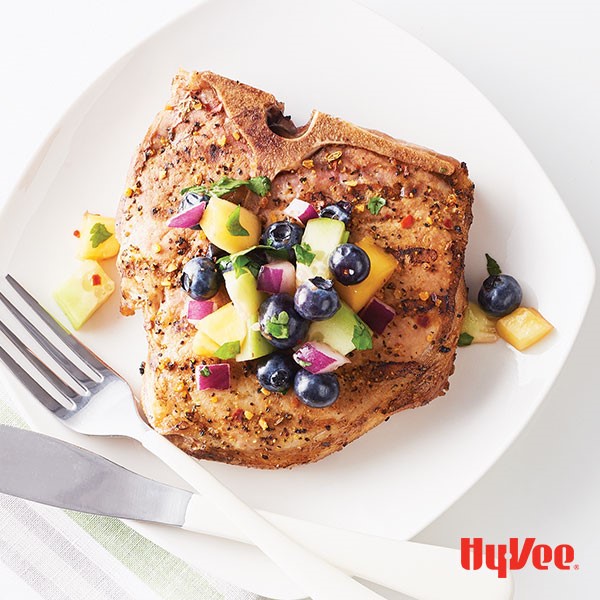 Description
When you think of cooking berries, what's the first thing you think of? Pie? Us, too. Until we discovered the savory side. Check out a few less-sweet options for cooking with berries.  
Strawberry Citrus Salsa over Grilled Halibut

Think your salsa's missing something? Add berries. They add a tart but semi-sweet flavor that works great with smoky grilled fish.

Pork Chops with Blueberry Mango Salsa

Forget the applesauce, when it comes to grilled pork in the warmer months, reach for berries to round out the dish. 

Raspberry Swiss Grilled Cheese

We've tried a lot of variations on a grilled cheese, but until you add berries, you haven't tried the best.  

Chicken Strawberry Poppy Seed Sandwiches

Strawberries are delicious in grilled chicken salads, so why wouldn't we add them to sandwiches? 

Steak and Blackberry Salad

You can try this salad with any kind of berry, but we find that blackberries go best. 

Honey Balsamic Chicken and Roasted Potatoes

Make a simple balsamic berry glaze using a combination of blackberries, blueberries, and raspberries. Your chicken will never be the same. It's a Hy-Vee Test Kitchen favorite for meal prepping.

Chicken with Grilled Watermelon Salsa

Blueberries and jalapeno, along with refreshing watermelon, make this salsa pop. Don't skimp on either. 

Salsa de Mayo

You love avocados and raspberries, but have you ever tried them together? On grilled chicken? Doooo it. Doooo it. 

Berry Brie Bruschetta

You can pretty much make a meal out of this cheesy-berry bruschetta. In fact, we encourage it.