Primary Media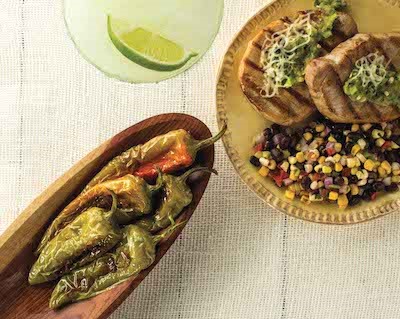 Description
Late summer is the peak of hatch chile season, so if you see 'em, stock up. There's salsas, enchiladas, and cheesy rice recipes to be made.
Hatch Gazpacho

A popular dish in Spain and Portugal, Gazpacho is a chilled soup made primarily of raw vegetables. Once you get a taste, you might start to wonder how else you can serve Gazpacho. With chips? Drizzled over corn salad? In a shooter glass with shrimp skewers? 

Black Bean and Hatch Chile Salsa

It's the kind of fresh salsa that needs no additional seasoning. And it's not just for chips. Try it with grilled meats or stirred into rice for a simple side.

3 Pepper Spicy Polenta

Triple the heat... but in a not-too-hot way. This dish combines hatch peppers, jalapenos, and Sriracha—cooled, sort of, by a creamy, cheesy polenta.

Hatch Chile Pepper Chicken Enchiladas

Creamy and mildly spicy, this highly rated enchilada recipe is a must during the height of hatch season.

Quick Hatch Chile Salsa Fresca

Summer salsa at its finest, this quick dip shows off the best of hatch season, and with only 5 ingredients.