Food Love
6 Dinner Recipes You Can Make Using Frozen Ingredients
Primary Media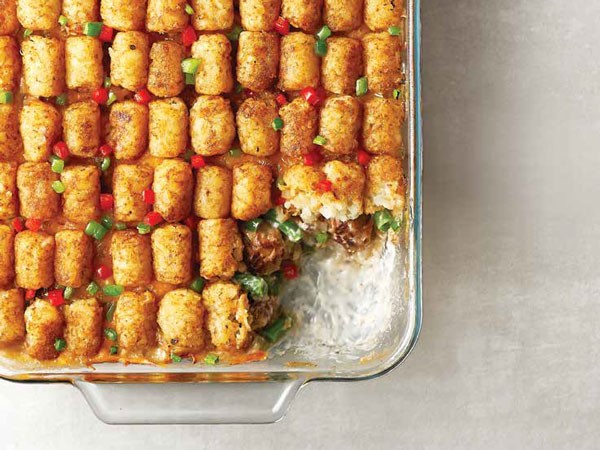 Description
Should you be keeping more frozen foods on hand? Yes! We love keeping frozen fruits, vegetables, and meat on hand so we can whip something up in a flash. Here are some of our favorite meals to make using frozen ingredients and some pantry staples.
Tater Meatball Casserole

Who doesn't love a good tater tot casserole/ hot dish? We made it even better by using frozen green beans, meatballs, and potato puffs. YUM.

Gnocchi Chicken Soup

This recipe calls for rotisserie chicken, but you can always use frozen pre-cooked chicken, or sear up those frozen chicken breasts you've been holding on to. Then mix frozen vegetables with water, canned cream of chicken soup, and shelf-stable gnocchi.

Asian Chicken Wraps

When in doubt, wrap it out! Frozen Asian medley veggies, riced cauliflower, and frozen grilled chicken strips make it easy to wrap up. Especially when you add some pantry staples like cashews, sesame seeds, sweet and sour sauce, and tortillas.

That's Smart! One-Pot Spaghetti and Meatballs

This is comfort food made easy. Use just one-pot, frozen meatballs and some of our favorite pantry staples: spaghetti, pasta sauce, chicken broth, and seasonings to make our family-friendly dinner recipe.

Slow Cooker Salsa Chicken

Everyone loves a slow cooker recipe. What makes this one so special, is you can add your frozen raw chicken to the slow cooker and then top it with fajita vegetables (you can even use frozen!) and flavorful salsa.

That's Smart! Chicken Pot Pie

Frozen pie crust: Check.
Pre-cooked chicken: Check.
Canned Soup: Check.
Frozen Veggies: Check.
Dinner is served!