Food Love
11 Seafood Recipes Worthy of Your Next Fish Fry
Primary Media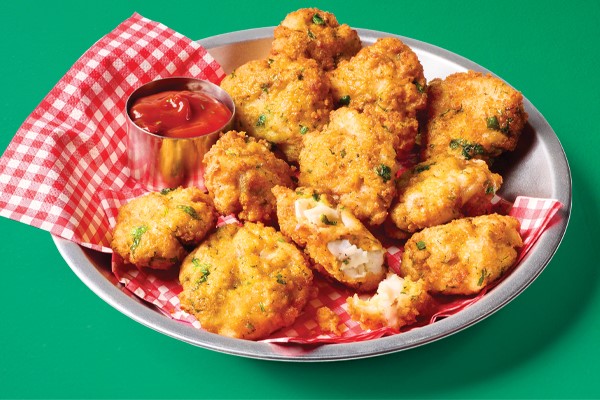 Description
Community and restaurant fish fries are a popular Lenten tradition in the Midwest, but fried seafood can be enjoyed year-round! Traditionally, deep-fat frying is the method of choice during a fish fry, but there are many ways to enjoy fried fish. You can pan-fry, oven-fry, and air-fry fish these days, and we are here for it! These recipes feature catfish, cod, tilapia, salmon, and walleye, which cook up hot, crispy, and full of flavor. Check out these 11 unique fish fry-worthy recipes at your next gathering or family dinner!
Learn more about how Hy-Vee ensures the freshest seafood gets to your plate.
Catfish Nuggets with Chipotle Ketchup

Bite-sized for an easy appetizer and they are oh-so dippable! Which is perfect since we have a chipotle ketchup that is *chef's kiss!*

Fried Cod Banh Mi

A nod to traditional Banh Mi, this Fried Cod Banh Mi sandwich is a spin on this Vietnamese dish. 

Oven-Fried Chili-Lime Tilapia

This Chili-Lime Tilapia is a one-pan meal fit for your family! Oven-frying can be a healthier cooking option than the traditional deep-frying method.

Air-Fried Buffalo Salmon Taquitos

Pull out the air fryer to make these crunchy and spicy Buffalo Salmon Taquitos! Serve as a main entrée or an appetizer. 

Pan-Fried Walleye Burgers

These Pan-Fried Walleye Burgers are fresh and fun! The mild flavor pairs perfectly with the green onion, pickles, and lemon.

Beer-Battered Fish 'N' Chips

This beer-battered recipe will make your fried fish light and crispy!

Air-Fryer Tilapia Tacos

Crispy fish tacos are just a quick air-fry away! Ready in under 30 minutes.

Dilly Chip Oven-Fried Fish

This recipe is like fish and chips ... but better! Crush dill pickle-flavored potato chips and use them to crust tilapia fillets.

Sweet and Tangy Tilapia Fish Sandwich

Make your own crispy-fried fish sandwiches coated with salt and vinegar chips at home.

Asian Salmon Salad Bowl

Switch up your Friday fish fry with this Asian Salmon Salad Bowl.

Air-Fried Coconut Shrimp with Pina Colada Sauce

This air-fried shrimp recipe will be your new tropical escape! Trust us.