Wellness
8 Healthy Meal Prep Recipes Using Hy-Vee Cauliflower Rice, Including a Quick "Risotto"
Primary Media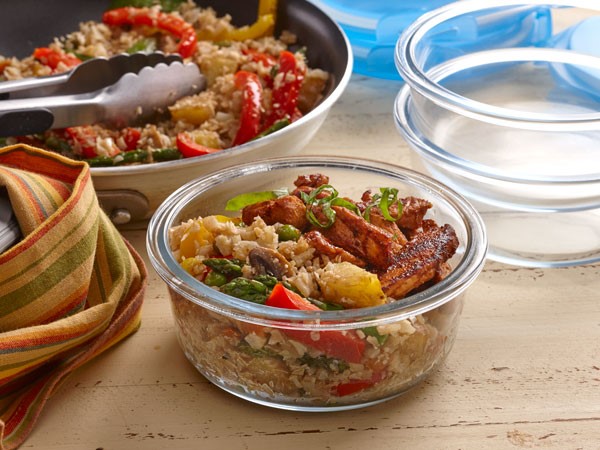 Description
It's not only a low-carb option for rice, this powerful veggie packs in a lot of protein and other nutrients, too. We couldn't help but explore the many uses of riced cauliflower in the kitchen, including a hot breakfast "cereal," a quick "risotto," and a healthy take on shrimp and "grits."
Of course you can always rice your own cauliflower in the food processor, but if time is not on your side, look for the Hy-Vee Short Cuts riced cauliflower in the produce department or find cauliflower rice in the frozen food aisle. 
Chocolate Peanut Butter Cauliflower "Oatmeal"

The irresistible flavors of peanut butter and chocolate make cauliflower taste like a treat—trust us. Plus, you get an extra helping of vegetables. 

Asian Chicken Wraps

Replacing rice in a burrito with cauliflower rice is a brilliant way to sneak in an extra veggie without changing the texture. Try it with the kids. 

Italian Pepper Shredded Beef

We can't get enough of this spicy beef over cauliflower rice. Plus, it makes enough to pack for lunches the next day.

Stir-Fried Cauliflower Rice with Sriracha-Marinated Pork

Finally, a healthy take on fried rice. Stir-fried veggies and cauliflower rice are topped with spicy marinated pork and sweet pineapple.

Mini Cauliflower Bites

These portable cauliflower pizza bites are one of our favorite appetizers. It's full of the pizza flavor you love with all the goodness of cauliflower packed right in.

Cauliflower Chicken Tostadas

Here, the tostadas are made out of lemon and garlic cauliflower rice—a low carb-and super delicious option.

Shrimp, Lemon and Pea Cauliflower "Risotto"

This quick 25-minute take on risotto uses, you've guessed it, fresh cauliflower rice. The cauliflower soaks up all of the lemony goodness of the broth and highlights the flavor of the shrimp.

Chicken Tinga

Make a big batch of Chicken Tinga to serve over cauliflower rice. (It's also DEE-lish over zucchini noodles or sweet potato noodles.)