Wellness
20 Ways to Eat Healthy on a Budget
Primary Media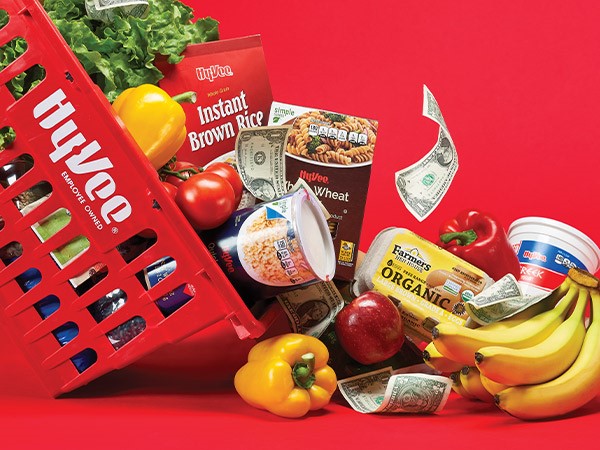 Description
The average American spends $1,200 annually on fast food. Eating at home can be the healthier and less costly option! Whether you're cooking for yourself or the whole family, these money-saving ideas will take the bite out of eating right. There are even more ideas in the digital edition of Hy-Vee Seasons magazine!
Quick tip: Check Hy-Vee Deals for the week's best coupons, deals, and sales. 
Eat What You Buy

The average household throws out $640 worth of food each year, according to one survey. 76% of Americans admit to throwing out leftovers monthly. Keep an inventory of perishables on the door of your fridge and incorporate those foods into your meals to keep them rotating.

Use Frozen Foods

Frozen foods are convenient and cost efficient; plus, they come with an extended expiration date. Produce is frozen at an optimal time to lock in flavor and nutrients.

Sign Up for Savings

Get deals, offers, and promotions delivered to your inbox! Sign up here.

Try Add-Ins

Boost nutrition and make a dish go further by augmenting ingredients. Examples: Add fortified wheat flake cereal to meatloaf, shredded cabbage to salad, butternut squash to soup, black beans to chicken salad, and kale to quiche.

Cook Big Meals, Save Leftovers

Get more servings by doubling up on ingredients when cooking a healthy meal like a veggie-laden soup or casserole. It's really no extra work, and one leftover meal can easily replace a $10 lunch out. Refrigerate and use within a few days or freeze for later use.

Buy in Bulk

Save money in the Hy-Vee HealthMarket bulk section. Buy whatever amount you need, eliminate packaging, and explore a range of natural and organic products at a price that won't make you blush.

Pack a Lunch

A few minutes' prep time can ensure you have a healthy, nutritious lunch. Prepare several salads in advance so they're ready to go when you are. Or make a casserole and divvy it up into single servings.

Keep the Pantry Stocked

A well-stocked pantry simplifies the task of putting together a healthy meal on the fly. Bonus: You can fill the pantry with sale items and hold them until necessary. Be sure to have plenty of healthful ingredients on hand.

Freeze What You Don't Need

The freezer is your friend. Whether it's leftovers from last night's dinner or ingredients for next week's, a freezer buys you time to prepare foods when it's convenient. You can also freeze produce that's on sale or harvested from your own yard.

Buy in Season

We're proud to offer fresh produce throughout the year, but things are really humming when local crops are in season. 

Make Meal Planning a Priority

Planning meals in advance helps pinpoint the ingredients needed and makes shopping more efficient. Decide what you want to eat and buy just the ingredients called for in the recipes. That way you're not tempted to add in extra calories.

Find Healthy Hy-Vee Recipes

You're in the right place to find tons of delicious and healthy recipes! Search by category, special dietary considerations, and more.

Buy Hy-Vee Brands

Hy-Vee products, including Hy-Vee One Step and private labels like Crav'n and Gustare Vita, are priced to save you money over the national brands. Use the savings to stock up on better-for-you foods.

Download Our App

Get the Hy-Vee free app from the Apple Store or Google Play. Enjoy one-stop shopping and access to digital coupons and sale item search capability so you can stock up on produce and other healthy items.

Hy-Vee Plus

Add a Hy-Vee Plus membership for just $99/year or $12.95/month to get bonus monthly discounts and free items. Learn more and sign up here.

Be Flexible

Got spaghetti in mind? Take a slight detour with spaghetti squash or spiralized zucchini. You'll get extra nutrients from the fresh produce.

Order Curbside

Shop Aisles Online and schedule delivery or curbside pickup. Use the time you save shopping to prepare meals to freeze for later use.

Get Cash Back

If you regularly pay for groceries with a credit card, use one that awards cash back specifically for grocery purchases.

Buy What's on Sale

Let healthy sale items provide inspiration for the upcoming week's menu. Look for deals on fruits, vegetables, and more. And always check Hy-Vee Deals for coupons, savings, and more.

Focus on Nutrient-Rich Foods

Stock up on foods that offer a nutritional punch without knocking out your budget. Eggs, oatmeal, beans, brown rice, nonfat greek yogurt, whole wheat bread, and multigrain pasta are just some examples of inexpensive nutrient-dense foods you can plan satisfying meals around.