Primary Media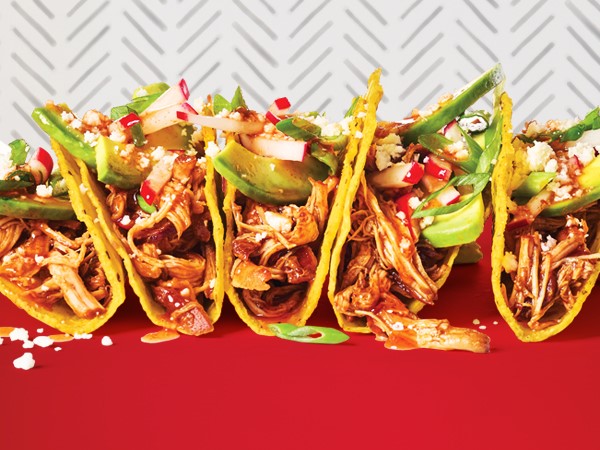 Description
Studies show family meals are beneficial mentally and nutritionally for children and parents. The whole family can benefit from greater self-esteem, less stress, and lower levels of depressive symptoms. Hy-Vee can help facilitate easy family meals! Check out our low-stress family dinner ideas, and visit our Family Meals Guide for additional recipes and inspiration.
There's even more information about the benefits of family meals in the digital edition of Hy-Vee Seasons magazine. 
Meatball Pizza Pot Pie

Let your kids help shop for and prepare the meal. It teaches math skills, boosts self-confidence, and makes for more adventurous eaters.

Pressure Cooker Honey-Garlic Chicken Tacos

Table time can be a good opportunity to share family stories and history or explain how certain family traditions came to be.

Sweet 'N' Spicy Slow-Cooked Chili

A Harvard study found that families who eat together are twice as likely to get their five servings of fruit and vegetables a day.

Coffee-Crusted Steak with Thyme-Roasted Vegetables

Keep talk around the table positive. If parents need to discipline children for something that happened during the day, address it away from mealtime.

Italian Skillet Lasagna

Passing food around the table is a good opportunity to reinforce common etiquette like saying please and thank you.

Chicken and Black Bean Quesadilla

According to our Hy-Vee Dietitians, eating together as a family is correlated with decreased risk of obesity, prosocial behavior, and higher grades.

White Cheddar Broccoli Mac and Cheese

Dedicated time for meals opens the door for communication among family members, which can create stronger relationships.

One-Pot Chicken Dinner

Mealtime conversation, away from distractions like cell phones and TV, teaches children how to listen to others and allows them to voice their opinions.

Zucchini-Crusted Veggie Pizza

Kids are more likely to try new foods when they are served family-style, so they can control what and how much they select.