Holidays
10 Quick-Fix Holiday Desserts for Last-Minute Holiday Celebrations
Primary Media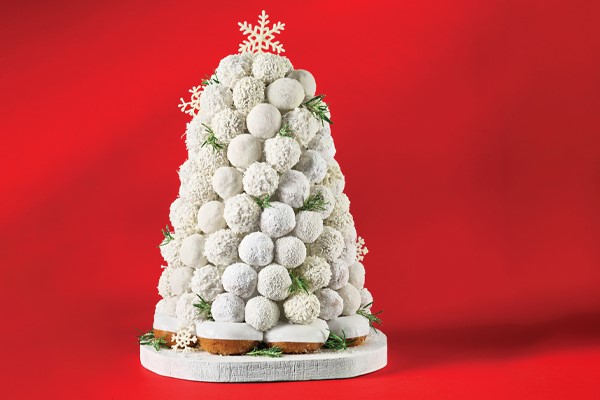 Description
No time to make a homemade dessert for the holiday party? No problem! Take delicious Hy-Vee Bakery items and use them to create your own extravagant holiday treats. We promise everyone will be amazed at how stunning and delectable these desserts are. But, they won't be the wiser that you took a few shortcuts.
Cookie Truffles

Round out the cookie tray with simple decorative truffles made with Bakery fresh cookies—and only 2 other ingredients.

Winter Wonderland Donut Cake

Create this monochromatic white wonderland donut cake out of Hy-Vee Bakery donut holes and cake donuts. Just dip in your favorite toppings and then use toothpicks to secure them on a polystyrene foam cone.

Rudolph Cupcakes

Dark Chocolate Cage Cake

Alright, cage cakes are all the rage this season! Quickly make this trendy dessert by starting with a Hy-Vee Bakery 2-layer 7-inch round cake frosted with buttercream frosting. Then follow our instructions for making the cage. You can also make a vanilla version using white chocolate coating for the cage.

Candy Cane Cake

This cake may look intimidating, but by taking a few short cuts, like pre-ordering cakes from your local Hy-Vee Bakery, this level of baking is actually do-able. 

Orange Cream Cake

You can't go wrong with orange cream. Start with a Hy-Vee Bakery 12-oz. unsliced pound cake and cut into layers. Then spread with cream cheese frosting and orange marmalade. For an extra-special homemade touch, top with peeled Cara Cara and navel orange slices.

Mixed Berry Holiday Trifle

Let's be honest, dessert is the best part of any holiday dinner. Make our show-stopping trifle layered with slices of Hy-Vee Bakery chocolate cake rolls, fresh whipped cream, and berries.

Chocolate-Caramel Pudding with Irish Cream Sauce

Alright, the name might seem intimidating, but this recipe is super easy! Start with a loaf of Hy-Vee Bakery challah bread and whip up the egg custard with a few simple ingredients. Take it over the top by making a homemade glaze made with Bailey's Irish cream liqueur.

Cherry Red Velvet Ice Cream Cake

Our ice cream cake combines Hy-Vee Bakery red velvet cupcakes, frozen cherries, and vanilla ice cream. You're going to love it!

Christmas Tree Cakes

Okay... how cute are these cakes?! Start with a Hy-Vee Bakery unfrosted white quarter sheet cake and cut into triangles. Dip into melted white chocolate wafers and decorate using your favorite holiday sprinkles.