Primary Media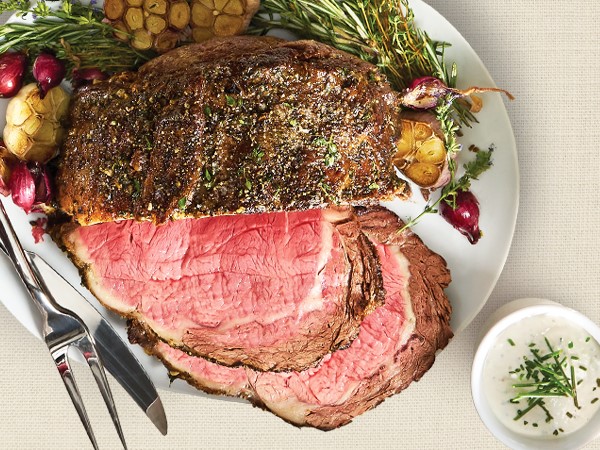 Description
We love turkey, but we love these other dinners, too. Switch up your traditional holiday meal by enjoying different special occasion recipes like prime rib, lobster, surf and turf risotto, or roasted leg of lamb. Are you hungry yet?
Beef Wellington

This beef wellington is beef tenderloin wrapped in puff pastry and makes for an excellent holiday entrée.  

Slow-Roasted Prime Rib with Horseradish Cream

Move over turkey! We're making room for tender slow-roasted prime rib topped with a creamy and spicy horseradish sauce.

Peppercorn-Crusted Beef Tenderloin

We can't stop thinking about the blue cheese butter melting on this fork-tender beef tenderloin.

Braised Apricot-Orange Cornish Game Hens

Who wants a piece of the bird when you can have the entire bird to yourself?! 

Roasted Leg of Lamb with Rosemary-Garlic Potatoes

The only thing better than this boneless leg of lamb is the hasselback roasted potatoes. They're full of rosemary-garlic flavor and oh-so-crispy.

Shrimp Mac and Cheese

You can't go wrong serving up mac and cheese for the holidays. Especially if it includes shrimp.

Shrimp-and-Lobster Stuffed Tails with Limoncello Cream Sauce

Lobster stuffed with shrimp and topped with a boozy Italian Limoncello cream sauce. Count us in!

Mushroom Risotto with Truffled Sea Scallops and Filet of Beef

We feel fancy just writing the name. Imagine how fancy your guests will feel digging into this surf and turf-inspired meal.

Scallop Linguine

There's just something about buttery tender scallops that are worthy of the holidays. Pair it with linguine for an easy, but still totally wow-worthy, holiday meal.

Broccolini-and-Pistachio Pesto Stuffed Pork Loin

Impress your guests with this elegant and easy entrée that's stuffed with Italian flavors. And if you're wondering how to get that beautiful swirl in the middle, we've got a step-by-step how-to for you to follow.