Primary Media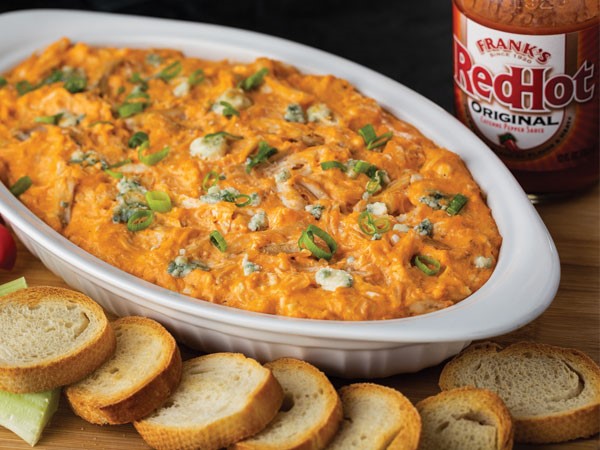 Description
Ring in the new year with the appetizers we love to love. Here are the top 9 performing recipes from the year! With the rise in popularity of new kitchen gadgets such as air fryers, new favorites have made the cut! All recipes would be perfect for entertaining any size party!
Frank's Redhot Buffalo Chicken Dip

Comfort food at its finest, this dip is always a sure thing at parties. 

Air Fried Boneless Chicken Bites

Only a 10 minute cook time makes this appetizer VERY appealing for any busy person! Plus the crispy fried texture you get from the air fryer is too good to be true! 

Air Fried Meatballs

We can see why this recipe is a fav! Quick and Easy while cooked to perfection! Toss with pasta sauce and freshly grated parmesan and serve with toasted crostini for the perfect appetizer pairing!

Baked Alaska King Crab Legs

Because really, crab is a delicious excuse to eat butter sauce.

Gourmet Stuffed Mushrooms

No prep needed! Your local Hy-Vee Meat Department does that for you. Simply order and follow the recipe below for cooking instructions.

Garlic Parmesan Truffle Fries

Who says fries can't be an appetizer? With flavors like parmesan and truffle these can be eaten as an appetizer, side, or main course. Easy shareable and crowd pleasing appetizer option especially served with a plethora of dipping sauces. Dare we even suggest a French fry dipping sauce flight!? 

Crescent Wrapped Brie with Pepper Jelly

To brie, or not to brie, that is the question. All jokes, aside you will want to brie! This crescent-wrapped brie with pepper jelly is the perfect appetizer for any gathering. 

Air Fried Hatch Pepper Cheese Curds

Baking cheese curds will be a thing of the past after you try our Air Fried Hatch Pepper Cheese Curds! Pair these with homemade ranch and you are set.

Beer Cheese Sauce

No wonder beer cheese sauce is a crowd-favorite! The dunking possibilities are endless. Our favorite cheese sauce carriers are pretzel bites and spiral beer brats.