Food Love
9 Frosting Recipes for Cakes, Cookies, and Confections
Primary Media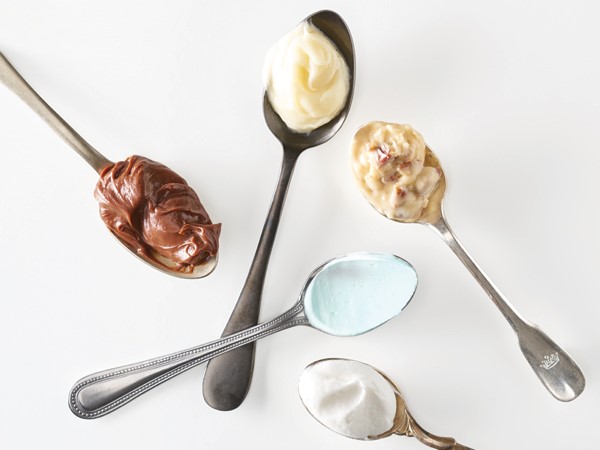 Description
Cake isn't cake without a rich frosting or buttercream. Pipe, drizzle, or swirl on one of these classic icings for a sweet finish on cakes, cookies, and other confections. 
Vanilla Buttercream

Spread or pipe delicious creamy vanilla-flavored buttercream on cakes or cupcakes. You can even switch out the vanilla flavoring for extracts, coffee powder, nut butters, and/or citrus zest and juice.

Dark Chocolate Buttercream

It doesn't get better than classic chocolate buttercream frosting. Follow our recipe for silky-smooth buttery chocolaty frosting that you can spread on whatever dessert your heart desires. 

Cream Cheese Frosting

We swear,.. you could spread cream cheese frosting on almost anything and we would eat it. Anyone feel the same way? Our creamy and slightly tangy cream cheese frosting goes with any dessert!

Marble Buttercream Frosting

Can't decide between chocolate or vanilla frosting? It's a tough choice. With our Marble Buttercream Frosting recipe, you get the best of both worlds! Simply dollop chocolate and vanilla frosting over your cake and smooth to create a marbled look or fill two piping bags with vanilla and chocolate frosting and then place in 1 larger piping bag. Pipe on frosting to create a swirled effect. 

Royal Icing

This sweet icing works well for cookies and gingerbread houses. It gets stiff and hardens completely with a matte finish. You can even tint it different colors using food coloring.

Sugar Cookie Frosting

Speaking of sugar cookies ... this is our best-ever frosting. It's creamy and it holds up well to food coloring and holds its shape if you want to pipe or create intricate designs. 

Swiss Meringue Buttercream Frosting

Silky-smooth, buttery, and almost marshmallowy. Our Swiss Meringue Buttercream recipe might be a little more hands-on than frostings you're used to making. But, one taste and you'll never go back to a classic buttercream frosting again!

Ganache

Dark, decadent, and very chocolaty. Ganache is made on the stovetop and then cooled to get its silky texture. Once cooled, it can be poured over a cake for a show-stopping smooth and shiny appearance that makes cakes and baked goods look like they came straight from the bakery. 

Coconut-Pecan Frosting

Known as a cooked custard frosting, this stovetop frosting is made with egg yolks. Our favorite ways to use this nutty frosting is spread over a chocolate cake (think German chocolate cake ... YUM!), or spread on cupcakes, cookies, etc.