Primary Media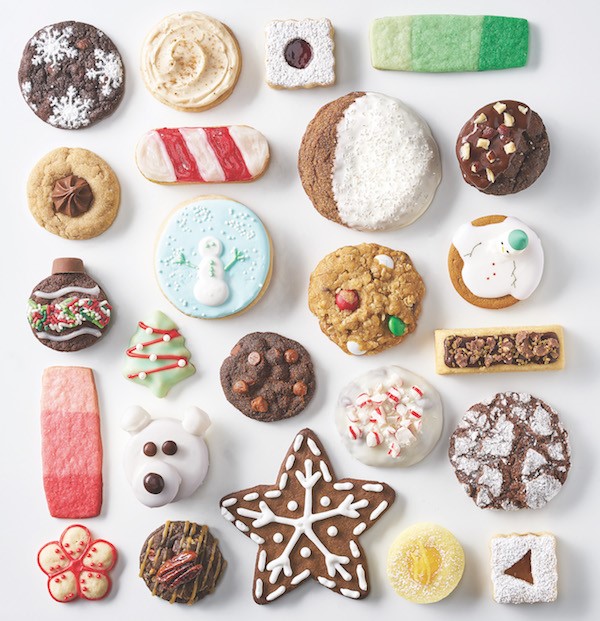 Description
With a little melted chocolate and sprinkles, you can create an edible winter wonderland from packaged cookies.
Gingerbread Friends

Spread and pipe white and red-tinted icing over purchased gingerbread cookies.

Snowflake Cookies

Position a snowflake stencil over bakery cookies and sprinkle generously with powdered sugar.

Holiday Wreath

Dip purchased fudge and marshmallow cookie pinwheels into melted bittersweet chocolate chips; coat with green sanding sugar and sprinkles and add red decorating candies.

Polar Bear

Dip sandwich crème cookies and mini chocolate sandwich cookies into melted vanilla almond bark. Place smaller cookie on top of larger to create bear face. Add mini chocolate-coated candies for eyes, crispy candy-coated chocolate piece for nose and white gumdrops for ears.

Frosty Cookie Sandwich

Dip sandwich creme cookies into melted vanilla almond bark and top with green and white sprinkles.

Melting Snowmen

Dip purchased gingersnap cookies into melted vanilla almond bark. Add miniature marshmallows and green mint baking chips for snowmen. Use fine-tip edible markers to add details.

Ornament Cookie Sandwich

Spread creamy white frosting between two purchased mini chocolate cookies to form a sandwich. Apply white edible gel and add holiday sprinkles; use frosting to attach a chocolate caramel candy top.

Reindeer Sticks

Insert food-safe wooden crafts sticks into sandwich creme cookies. Dip cookies into melted bittersweet chocolate chips. Add chocolate-covered pretzels for ears, candy eyeballs and a cinnamon imperial for the nose.

North Pole Cookies

Decorate vanilla crème oval-shape sandwich cookies with white, red, and green edible gel.