Food Love
10 Recipes to Simplify Cooking for Two
Primary Media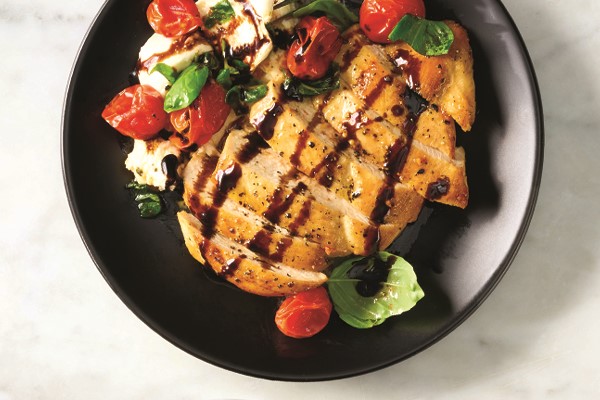 Description
Getting stuck eating leftovers all week happens when you try to adapt a recipe fit for a family of 5. Well, those times are behind us! Check out a list of 10 recipes that are sure to keep your taste buds satisfied with diverse meal options without guilt setting in when you realize you won't eat the leftovers. We have combined a little of everything in our list; including comfort foods, vegetarian options, and healthy-focused offerings to delight everyone.
Gochujang Steak Lettuce Wraps

This recipe is a fun date-night recipe that brings global flavors that will not disappoint. This recipe includes ingredients such as gochujang, an Korean fermented chili paste. Gochujang brings complex flavors that are savory, sweet, and spicy.  Run, don't walk to your local Hy-Vee to get the ingredients for this recipe!

Roasted Onion and Arugula Salad with Chipotle Salmon

A salad that you will be running to the kitchen to make. This salad is full of flavor; sweet caramelized red onions pair perfectly with the peppery and light flavor from the arugula and the smoky chipotle flavor of the salmon.

Charred Chicken Caprese

You can't go wrong with a Caprese salad. Especially when you turn it into a main entrée by adding chicken. What's not to love?

Dutch Baby with Leeks, Prosciutto and Cheddar

A savory Dutch baby? Traditionally Dutch Baby Pancakes have been served during breakfast as an upgrade to pancakes or other sweet breakfast pastries. It falls somewhere between a thin soufflé and a thick crepe. This savory spin is perfect for any meal! 

Pulled Pork Burrito Bowls

Serve in a bowl or on chips as a nacho feast; the possibilities are endless.

Autumn Vegetable Buddah Bowls

Fresh fall ingredients are our inspiration for these vegetarian buddha bowls.

Strip Steak with Mushroom Pan Sauce

Date night in? Try our one-pot, 30-minute recipe that features medium-rare strip steak, green beans, and tender potatoes.

Sesame Ahi Tuna Bowls

Our Sesame Tuna Ahi Bowls recipe is simple to make and only takes 30 minutes to make. The quality of ingredients and flavor will have your partner or roommate thinking you picked this up in a restaurant! This recipe brings fresh flavors that compliment the hero of this dish, the ahi tuna steak. 

Seared Steak with Whiskey Cream Sauce

Who doesn't love a good seared sirloin for dinner? Enjoy this steakhouse classic with a homemade whiskey cream sauce for your next date night in. Get all of our steak tips, tricks, and recipes in our Steak Guide.

Vegan Orange Chick'n and Cauliflower Rice

We all need a quick week-night meal. This Vegan Orange Chick'n Cauliflower Rice recipe cooks within 18 minutes. Now that is fast! This recipe is not just for individuals that choose a vegan diet but also perfect for any flexitarians. Meatless Monday's just got a whole lot simpler!