Primary Media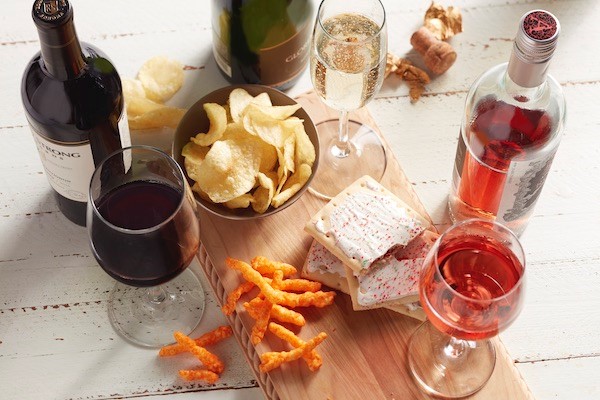 Description
For the nights that are all about good friends, late-night snacks, and feeling no shame in pairing red wine with cheese puffs, here are our favorite wine and junk food pairings.
Zinfandel or Syrah & Nachos

As a general rule, Syrah and Zinfandel wines pair really well with most things from the meat department. We chose beef. For nachos. You're welcome.

Rosé and Strawberry Toaster Pastries (That's Right)

It's like the best of childhood meets the best of your adulthood. Cheers to that.

Champagne & Chips

Champagne and sparkling wines are incredibly versatile, but they also have a palate-cleansing effect, which works particularly well with foods that are high in salt. Hello, potato chips.

Hyvee Culinary Expert Tip

An unexpected pairing I love is potato or tortilla chips with Champagne. I love the crisp, salty crunch of chips with the bright fruit and acid, combined with the palate cleansing effervescence of the bubbly.

Cabernet Sauvignon & Cheetos

Chardonnay & Buttery Popcorn

Buttery popcorn with a buttery Chardonnay—we thought happy hour couldn't get any better, until we discovered this simple brown butter popcorn recipe.

Riesling & Cheesecake

Pick up a Cheesecake Factory Cheesecake at Hy-Vee to pair with a sweet Riesling.

Sweet Riesling and late-harvest wines are a great match for a rich but not-too-sweet cheesecake.

Hyvee Culinary Expert Tip

When pairing wine with dessert, remember to select a wine that's at least one step sweeter than the food. If not, the wine may taste bitter or sour compared to the dessert.