Primary Media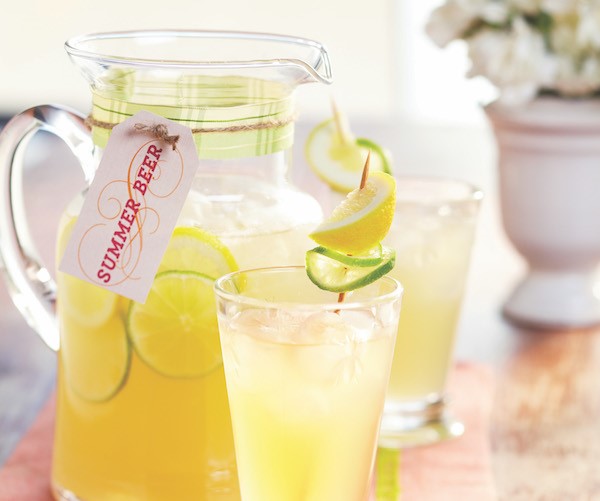 Description
Radlers and shandies are both beer-based drinks mixed with fruit juice or fruit-flavored sodas. Here's everything you need to know to mix up your own signature shandy. 
Discover more beer-based recipes and ideas in our Craft Beer Guide. 
Base

When it comes to radlers and shandies, the beer base is typically a lighter beer such as a lager, pilsner, or pale ales. If you're a fan of bitterness and want to create a more complex flavored radler or shandy, you can select a wheat beer, which has a more forward bitterness than other lighter beers. 

Hyvee Culinary Expert Tip

You can easily make gluten-free versions of radlers and shandies by using a gluten-free beer or cider base.

Bubbles

When it comes to mixing in the fruit juice, you have two options: flat or sparkling. If you don't want to lose the carbonation in your beer, go with a sparkling fruit-flavored beverage. If you're looking for a juicier drink, try a fresh squeezed juice.

Flavor

For sparkling beverages, ginger ale, lemon-lime soda, blood orange soda, raspberry soda, and fruity sparkling waters. For fresh juices: fresh juiced watermelon, grapefruit juice, lemonade, or peach nectar all work well. Get creative with your flavors and feel free to use more than one. We've even tried beer and margarita mix together. It worked.

Ratio

Sometimes it takes a little experimenting to find the right balance of beer to mix-ins. Start with a 50/50 combination of beer and soda or juice. You can always add more juice or more beer depending on your preference.

Hyvee Culinary Expert Tip

Throwing a party? Set out a variety of juices, beers, and sodas so guests can mix up their own favorite concoctions.

Stir

Once you have your ratio, make sure to gently stir the mixture together. Over stirring can cause the radler or shandy to foam and fizz causing you to lose carbonation or to overflow the beverage.

Garnish

Garnishes aren't just for looks; they add a hint of flavor to drinks as well. Try adding a slice of fruit to the rim of the glass or drop fruit directly into the pitcher or glass. You can also use skewers to build garnishes using fruit and fresh herbs. And don't forget about icy pops. It's the garnish that doubles as an ice cube.