Living: Family
Our Best 30-Minute Skillet Dinners for Crazy-Busy Nights
Primary Media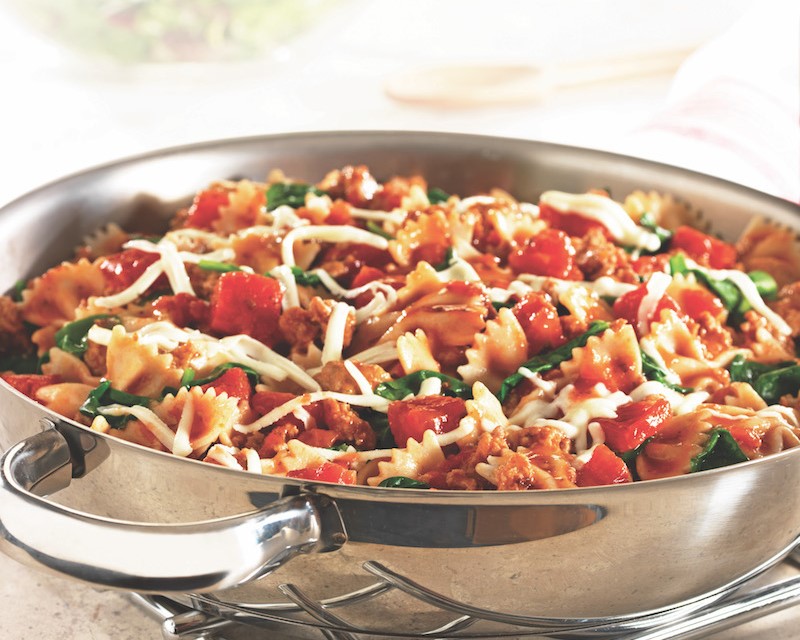 Description
Your go-to dinner recipes for nights when time is crunched.
Beefy Chili Skillet

It's amazing what you can make by adding canned chili and tomatoes to sirloin. This 3-ingredient chili is a weeknight lifesaver.

 

Italian Pasta Skillet

It's quick, family-friendly, really tasty, easy to customize, and it only uses one pan. In other words, it's a win-win-win-win-win.

Easy Skillet Chicken Parm

You can make comforting, home-style Chicken Parmesan with just one skillet, and in just 30 minutes. 

Chicken Enchilada Skillet

Consider this deconstructed enchiladas, made quickly in a skillet with torn corn tortillas, cooked chicken, zesty tomatoes, and sauce with cheese.

Sauteed Chard & Eggs

Fresh Swiss chard, with its earthy, slightly salty taste and crisp, crunchy texture is probably one of our favorite leafy greens to eat. Especially when topped with a runny egg as a luscious dipping sauce. Oh, and don't forget the bacon.

Speedy Skillet Pasta

Keep these ingredients in the pantry for when you need a quick dinner on the table.

Peas and Pancetta Frittata

When you're just not sure what to make, there's always a quick frittata. Just use whatever veggies or meats you've got.

Skillet Farro & Chicken

No chicken? No problem. Make it a meatless meal by adding more sliced mushrooms (about 12 ounces).