Primary Media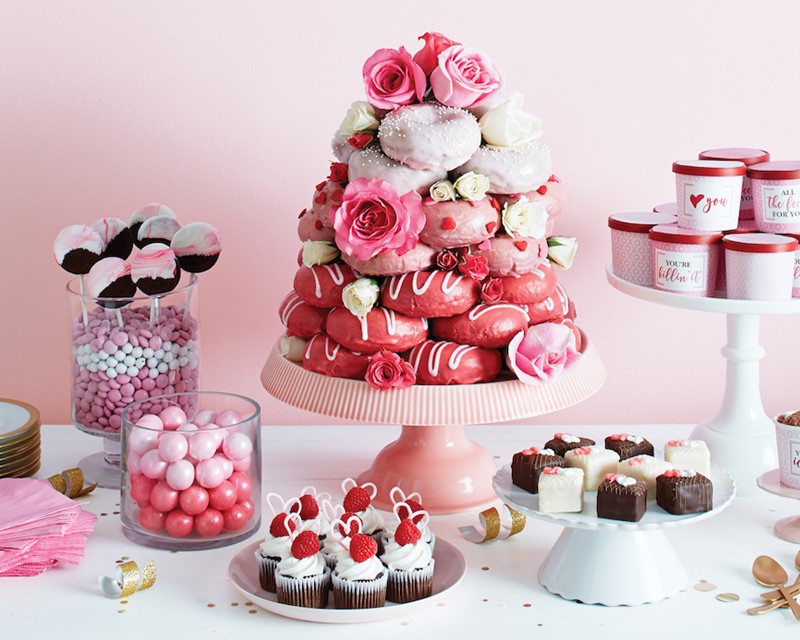 Description
From dipped Oreos to the ultimate donut tower, these quick and insanely delicious treats are sure to sweeten your day.
Tie-Dyed Cookie Pops

Insert lollipop sticks into the cream filling of sandwich cookies. Then melt white chocolate according to package directions. Using a toothpick, swirl oil-based pink food coloring into the white chocolate. Partially dip cookies into the coating; gently tap the stick to allow excess coating to drip off, then place upright in a glass to dry. 

Hyvee

Culinary Expert Tip

When using food coloring in white chocolate, be sure to use an oil-based coloring to prevent the chocolate from seizing.

Heart Toppers

Pipe icing on homemade or store-bought cupcakes, sprinkle with coarse sugar, and add a fresh raspberry. For the heart decoration, melt pink candy melts according to package directions. Pipe the melted candy into heart shapes onto a sheet of waxed paper, chill to set then insert into the icing.

Petal-Perfect Donut Cake

Order two dozen cake donuts from your Hy-Vee Bakery—enough to fit in a 10-in. pedestal. Purchase a dozen roses, sprinkles, and heart-shaped candies. Ice the donuts with pink, red, or white glaze and add desired candies and sprinkles. Once they're dry, you can start stacking and decorating. Be sure to gently wash and dry the roses before allowing them to touch the food.

Heart Crispie Treats

Use a heart-shaped cookie cutter to cut out homemade Rice Cereal Treats. Then dip half in melted white chocolate and decorate with candies or sprinkles.

Pretty Petits Fours

Order these little cakes from the Bakery and decorate them with pink and white frosting. You can even ask your Hy-Vee bakery specialist to add frosted hearts. Pretty sweet.

Everyone Hearts Cookies

It's hard to beat a Classic Cutout Cookie. Pick some up at the Bakery or use our favorite tried-and-true recipe to make your own heart-shaped concoctions.