Primary Media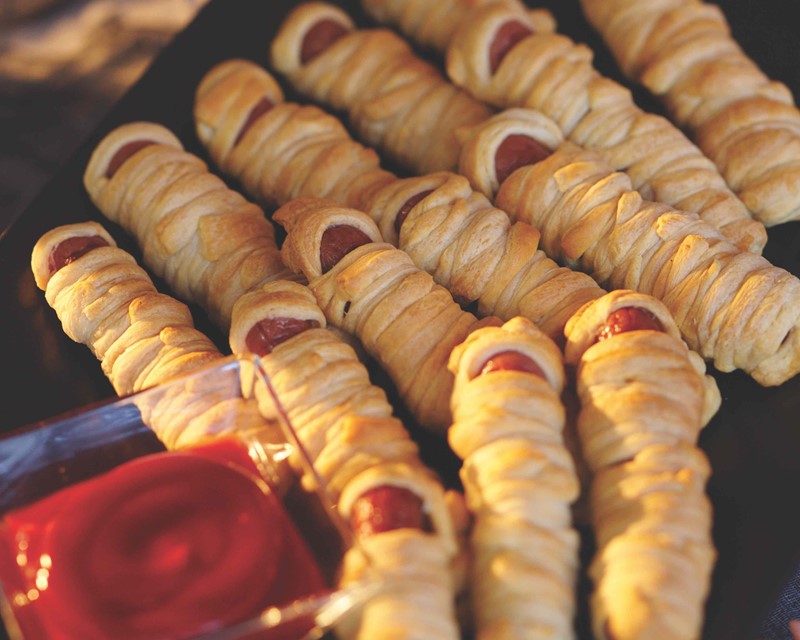 Edible Specimens

They might look gross, but they couldn't be sweeter. Use dried fruits, nuts, and licorice to make bees, spiders, or your own creepy, crawly species. Coat them with white or dark chocolate to make heads and body parts, using melted chocolate as "glue." Allow them to set for about an hour. Then make a simple specimen sheet to place under each edible critter.

Phantom Pizzas

We promise you won't get any boos when you make these. Use store-bought pizza dough to shape mini crusts. Then use a Halloween cookie cutter to make fun shapes out of deli-sliced cheese. Top your crust with sauce and your cheese shape and bake according to pizza dough package directions.

Boo-nanas

Now that's a frightening fruit. Skewer half a banana, dip in melted white chocolate, and roll in flaked coconut. Then press on raisin eyes and a mouth. Boo-tiful!

Mummy Dogs

For when you really want to get all wrapped up in Halloween... Preheat oven to 375 degrees. Wrap hot dogs with strips of American cheese, then wrap in strips of crescent roll dough. Bake the dogs on a non-stick cookie sheet for about 15 minutes or until dough is golden brown. You'll need an 8-ounce can of dough for 8 hot dogs.

Cute Halloween Brownie Pops

Don't let these goblins fool you. They're really nothing more that brownies and melted candy coating disguised as the cutest-ever Halloween treats.

Apothecary Jars, for the Health Goblins

Fill large jars or glass vases with different shapes of vegetables. Think cauliflower "brains," cherry tomato "eyeballs," and carrot stick "fingers." To make dips cups, cut the top portions off paper cups and use decorative shears to edge the tops.

Spider Pops

Not-so-itsy-bitsy, these chocolatey treats are always welcome at the Halloween bash. Slide 8 pretzel sticks into a large marshmallow. Then use a new clean paintbrush to coat the whole thing in melted chocolate. (So fun for kids!) Press on cinnamon red hot candies or mini M&Ms for eyes.

Strawberry Screamers

You scream. I scream. We all scream for scary berries. Dip strawberries in melted white candy coating and place on parchment paper. Use mini chocolate chips for eyes and melted chocolate for a mouth.

The Nice Mice

The only kind of mice allowed in the kitchen are the chocolate kind. Use a dab of frosting or melted chocolate to secure a Hershey Kiss to a chocolate-covered cherry. Tuck slivered almond ears between the head and body and add dabs of frosting for eyes.