How-to Article
How-To
How to Build a Halloween Gingerbread House
Primary Media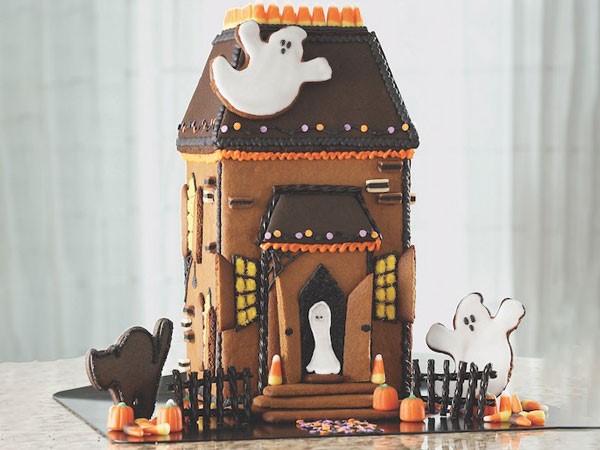 Description
It's time to put your showstopping skills to the test. Use the below gingerbread recipe and template to create the ultimate spooky haunted mansion.
Directions
Prepare the gingerbread dough. Keep in mind, the dough requires some chilling time, so you may want to make it the day before the house-building party. Remember, you can use the remaining dough and Halloween cookie cutters to make extra decorations, such as cats and ghosts.

After your pieces are baked, prepare the royal icing. It should be thick enough to maintain its shape, but easy to pipe using a rounded pastry tip. You can also make a separate batch of orange royal icing, for added decor.

Hyvee Culinary Expert Tip

When working with royal icing, keep it covered with a damp paper towel when you're not using it. This will prevent it from drying out.

Before you begin building, use icing to secure the shutters, front door, and porch. Then use icing, candies, and colored sugars to deck out your house with window trim and spooky designs. Remember to let everything dry before beginning assembly.

To assemble, use icing to pipe along the corner edges of the base. Use tumbler-style glasses to help hold walls in place while they dry. After about 1-2 hours of drying time, assemble the roof in the same fashion.

Your gingerbread haunted mansion is now complete! Finish off your design by adding more detail such as cookie ghosts and cats, landscaping, and roof designs. The more "details" you add, the sweeter the treat to eat! 
Help us make this page better!