Food Love
7 Semi-Homemade Chocolate Desserts for Cocoa-Nuts
Primary Media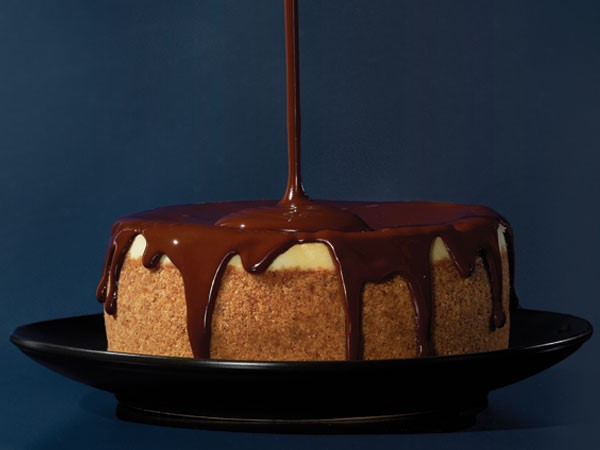 Description
Are you crazy for chocolate? Maybe you identify as cocoa-nuts. If so, these simple semi-homemade chocolate dessert recipes are for you. Just start with Hy-Vee Bakery items and dress them up with chocolate, chocolate, and even more chocolate.
Chocolate-Flooded Cheesecake

If you thought cheesecake couldn't get any better, think again. We decided to flood a Cheesecake Factory Bakery original cheesecake with homemade chocolate ganache and we have zero regrets.

Chocolate Cupcake Fix-Ups

Who wants an average cupcake? We want one with all the fixings. And by all the fixings ... we mean more chocolate!

Decorate Hy-Vee Bakery buttercream-frosted cupcakes with Zoet chocolate embellishments. To make shards or create large curls, melt a 60% cacao dark chocolate bar or white chocolate baking bar and spread on a baking sheet. Let stand until firm. Use a metal spatula to scrape chocolate into shards or curls. For chocolate lace, pipe melted chocolate in a lace pattern onto parchment paper and freeze until firm. Using an icing spatula, gently lift the piped lace from the parchment and place on top of each cupcake.

Chocolate-Dipped Strawberries

Mmm. Who doesn't love a classic chocolate-dipped strawberry? A tip to take them over-the-top: dip them in Zoet Belgian chocolate. Y.U.M.

Double-Chocolate Ice Cream Sandwiches

Hy-Vee Bakery chocolate brownie cookies and ice cream. Yeah, you have our attention.

Chocolate-Covered Sugar Cookies

Where have these chocolate-dipped sugar cookies been all of our lives?!

Dip Hy-Vee Bakery sugar cookies into melted dark or white chocolate melting wafers; allow excess chocolate to drip off sides. Sprinkle with chopped toasted almonds and let set. When firm, drizzle white chocolate cookies with melted dark chocolate and dark chocolate cookies with melted white chocolate. Garnish with sea salt, if desired. Let stand until set.

Fudgy Brownie Pops

Everything's better on a stick ... right? Then so are our fixed-up Hy-Vee Bakery brownies.

Insert wooden craft sticks into 6 Hy-Vee Bakery Fresh fudge brownies; place on a parchment-lined baking sheet. Drizzle brownies with melted white or dark chocolate, then sprinkle with Hy-Vee mini semisweet chocolate baking chips and/or nonpareil sprinkles. 

Chocolate-Berry Crepes

Ready-to-use crepes make this recipe extra-easy. What makes them extra-tasty? It's gotta be the chocolate hazelnut spread.