Primary Media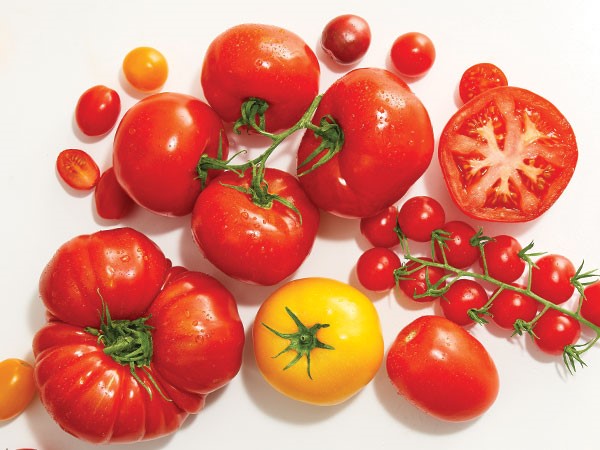 Description
Tomatoes are versatile and are available in a variety of shapes and colors. Learn the difference here.
Grape

One of the smallest varieties, these tomatoes are similar in size to their namesake. Grape tomatoes also have thicker skins and meatier flesh than other tomatoes. Meant to be eaten whole, the main use of these tomatoes is for snacking or salads.

Cherry

Only slightly bigger than grape tomatoes, about 1-inch in circumference, these tomatoes play a versatile role in Italian cuisine. Top on salads, paninis, or eat raw for a mid-day treat. Pro Tip: Char on the grill for an extra depth of flavor or skewer for a quick caprese appetizer.

Heirloom

Heirloom tomatoes come from seeds that have been passed down from generation to generation and grow true to seed—meaning what you plant is what you get. They are not uniform in color and can come in striated yellow, purple, green, and white varieties. Heirlooms are more vibrant in flavor when compared to other tomato varieties and make this Panzanella salad taste extra special.

Beefsteak

These iconic tomatoes are known for their massive size and subtle sweetness. Although mostly used for sandwiches, Beefsteak tomatoes can be eaten raw, roasted, or grilled, and are good for making hearty sauces.

Roma

Known as Italian Tomatoes or Plum Tomatoes, these egg-shaped fruits have a low moisture content and are are good for canning, making sauces, topping salads, or tucking inside a Three-Cheese Pesto Tomato Melt. 

San Marzano

Often found in cans in the States, these tomatoes are imported from Italy and are thinner and more pointed than the Roma or Plum tomatoes. Their flesh is much thicker, but contains fewer seeds with a stronger, sweeter, less acidic flavor. Many people enjoy using these tomatoes to make homemade sauces.