Primary Media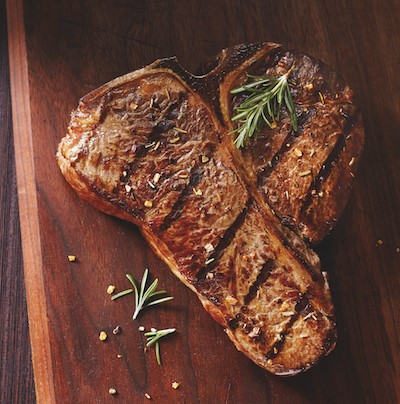 Description
Hand-selected and exclusively sourced from only the best Midwest farmers and ranchers, Hy-Vee Choice Reserve cuts are generously marbled, full of flavor, and a reliable favorite among customers.
Being in the Midwest, our standards for beef are high. Our criteria for marbling, flavor, and size of cuts is set at the highest of standards. When it comes to our Hy-Vee Choice cuts, less than 10% of USDA Choice graded beef is good enough for the Hy-Vee Choice Reserve label.
Hy-Vee Choice Reserve Beef T-Bone

If you're serving two (hungry) steak lovers, one 16- to 18-ounce T-bone is an impressive cut and easy to prepare. The flavors of a Hy-Vee Choice Reserve Beef T-Bone Steak are a good match for the boldness of blue cheese and richness of a red wine sauce.

Hy-Vee Choice Reserve Boneless Top Sirloin Steak

Sirloin steak can be chewier than cuts of beef from the short loin, but it's a good value. Plus it makes a mean steak sandwich or wrap. It can be quickly broiled or sliced and sautéed to your preferred level of doneness.

Hy-Vee Choice Reserve New York Strip Steak

Cut from the short loin, a New York strip steak is a favorite for both flavor and tenderness. While it's not your everyday steak, it's a splurge-worthy meal you can easily prepare at home. If the weather's not great for grilling, strip steaks can be just as good when pan fried. 

Hy-Vee Choice Reserve Rib Eye Steak

Many consider the rib eye to be one of the most flavorful cuts of beef. We can't disagree with them. But we can make it even more flavorful with a sweet and savory marinade. Rib eye steaks are great for grilling, but they're also ideal for panfrying.

Hy-Vee Choice Reserve Bacon-Wrapped Sirloin

An affordable cut, available in 5 or 8 ounces, this popular filet is easy to grill or pan sear. Plus, it's wrapped in bacon. So you know it's gonna be good. 

Hy-Vee Choice Reserve Boneless Chuck Roast

Because chuck meat has a generous amount of fat and collagen, it's best suited for longer cooking methods, such as braising, roasting, or slow cooking. As it cooks, the fat renders and the collagen breaks down, yielding a tender, melt-in-your-mouth beef, i.e. the perfect bite for a comforting pot roast. Brisket and bottom round also work well for pot roast or stew.