Primary Media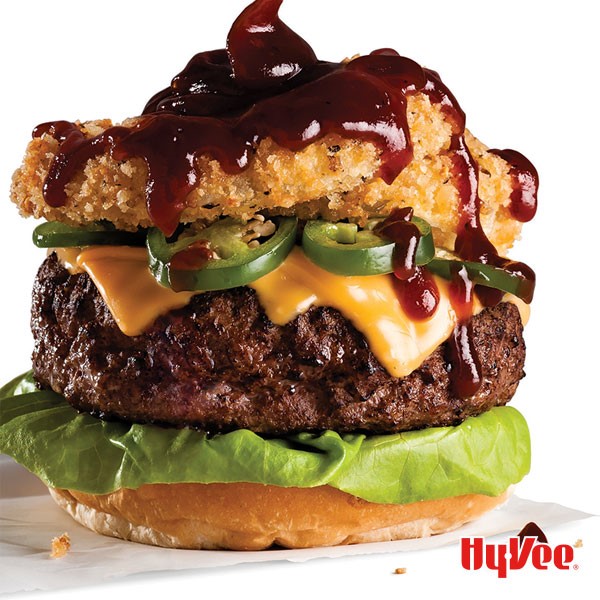 Description
For the ultimate in juiciness, restaurants often use an 80/20 grind for beef, which means it consists of 80 percent protein and 20 percent fat. The fat plays a critical role: It moistens and flavors the patty as it melts away during grilling. This also creates crevices in the meat that improve texture. Hy-Vee Chefs say a good alternative is the leaner 85/15 grind, which strikes a flavorful balance between protein and fat—but remains juicy and tender when grilled.
Chef Lisa's Reuben Burger

The Reuben sandwich—corned beef, sauerkraut and Thousand Island dressing on pumpernickel bread—originated in Omaha, Nebraska. For the Reuben Burger, Chef Lisa used the same ingredients on an all-beef patty.

Chef Scott's Prairie Rider Burger

Bison have roamed the South Dakota prairie for millennia. Similar to beef, ground bison is leaner and makes an excellent burger, especially when mixed with fresh sage.

Chef Joel's Wisconsin Burger

Wisconsinites adore brats, and this burger is an ode to their culinary passion. The brat patties are complemented by caramelized onions and bakery fresh pretzel buns.

Chef Anthony's Iowa Burger

To highlight Iowa, Chef Anthony created a sinful cheese sauce studded with Iowa's staple crop: sweet corn.

Chef Ben's BBQ Burger

Some of the best barbecue comes from Kansas, inspiring Chef Ben to create this barbecue-enhanced burger with barbecue sauce both in and on the patty.

Chef Bryan's Royale Blue and Gold Burger

Chef Bryan dedicates this burger to his home state's 2015 World Series winners, the Kansas City Royals baseball team. The team's colors, blue and gold, are represented by the blue cheese and golden onion rings.

Chef Darren's Horseshoe Hamburger

For inspiration, Chef Darren turned to the Springfield, Illinois, hometown dish, an open-face sandwich called the horseshoe. Like that sandwich, this burger features French fries and a velvety cheese sauce.

Chef Rebecca's Buffalo Turkey Juicy Lucy

Inspired by Minnesota's famous Juicy Lucy, this version of the cheese-stuffed burger gets a buffalo-wing spin as well, complete with hot sauce and crumbles of blue cheese.