Primary Media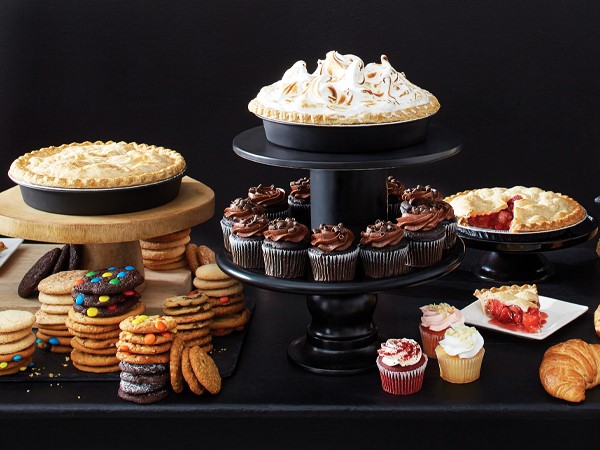 Description
Turn to Hy-Vee Catering for everything you need from the first bite to the final course of your wedding reception meal. Regardless of the size of your event, whether you need a tray or a full catered meal, we can help you create a delicious meal that's well within your budget.
And keep in mind, you get a discount for using Hy-Vee food service, floral, and bakery for your wedding! Here are just a few catering ideas Hy-Vee can help with; use it as inspiration for your meal.
Appetizers

Load up on appetizers in a tapas-style dinner! Choose assorted NORI sushi, crab rangoons, fried egg rolls, and shrimp for an Asian-inspired vegetarian meal. Go with BBQ cocktail smokies, chicken wings, fruit kabobs, and snack mix for a more rustic feel.

There are plenty more options where that came from, including add-ons like tuxedo strawberries.

Buffets

Always a crowd pleaser, Hy-Vee has tons of foods to choose from so you can create a spread that appeals to a wide variety of people.

This is an extremely cost-effective option, too. You can get two entrees (garlic herb chicken breast, lasagna, roast beef, etc.) for just $15 per person.

Hy-Vee Hickory House Meals

Hy-Vee Hickory House Smoked Meats are slow-cooked until they're fall-off-the-bone tender.

You can choose up to three entrees (baby back ribs, brisket, meatloaf, etc.), along with three side dishes (asparagus, white cheddar mac and cheese, mashed potatoes & gravy, etc.) and a corn muffin.

Displays & Experiences

Let us make your event spectacular with a chocolate, fruit, vegetable, or seafood display that makes an excellent centerpiece for your food tables.

We even do special food experiences, including Hog Roasts, with meat experts hand-carving a fully roasted hog on-site.

Specialty Bars

Desserts

Don't forget the most important part of a wedding reception meal—dessert! We can collaborate with you on all kinds of wedding cake and alternative dessert ideas.