Primary Media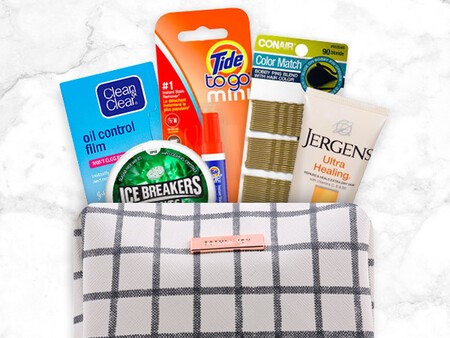 Description
While we hope your wedding day goes smoothly, we know that nail polish chips, wine spills, and your beautifully styled updo will slowly undo. Be prepared for the unexpected with our helpful list of must-haves for your Bridal Emergency Kit! 
Sewing Kit

Tweezers

Whether you need to pluck unwanted facial hair or remove a splinter, you'll be relieved to remember you packed mini tweezers.

Stain Remover Pen

Tissues

Wedding days are full of happy tears, which means you'll need some tissues in your kit. 

Makeup Remover Wipes

Running mascara, smudged eyeliner, your mom's lipstick kiss on your cheek—you're going to need makeup remover wipes for makeup emergencies. 

Bobby Pins

For those loose curls or a falling updo, you'll want to have bobby pins that match your hair color. 

For blonde hair, shop these bobby pins. 

For brunette hair, you'll want these bobby pins.

For dark and black hair, get these bobby pins. 

Breath Mints

Quick! Check your breath. You'll want a breath mint before you walk down the aisle. 

Feminine Products

Pain Killers

Maybe you didn't get enough sleep the night before, or you have a glaring headache while getting ready. Thankfully you put Advil in your Bridal Emergency Kit!

First Aid

Just in case your wedding heels give you blisters, make sure you have a travel-size first aid kit with you. 

Super Glue

Be prepared to glue a broken heel to your shoe or a jewel back onto your dress (or someone else's!) with super glue. 

Hair Spray

Let's face it: hairstyles don't last long. Keep your hairdo looking its best for your "I-do's" with a travel-size hair spray. 

Lotion

Make sure your hands are moisturized with lotion before your other half puts a new ring on your finger. 

Nail File

Just in case a nail breaks, you'll want to have a nail file on hand. 

Oil-Blotting Sheets

Q-Tips

Q-tips come in handy for a lot of little things, so don't skip these in your emergency kit!

Deodorant

Summer wedding? Either way, you might get sweaty and need to reapply deodorant. 

Compact mirror

For quick touch-ups and making sure you don't have lipstick on your teeth, make sure to grab a compact mirror.

Healthy Snack

How long until the reception? You'll probably feel hungry before then, so pack some healthy snacks to tide you over.