Primary Media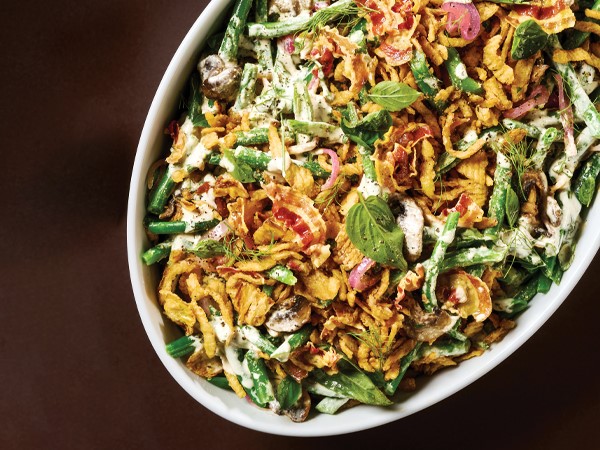 Description
A special holiday meal deserves special accommodations for those with dietary restrictions. We reimagined some traditional holiday favorites to meet every diner's dietary needs.
Explore more in the digital edition of Hy-Vee Seasons Magazine!
Gluten-Free Apple-Brussels Sprouts Stuffing

Since apples are always a go-to, we've updated our popular recipe with gluten-free 7-grain bread. Make this recipe vegetarian by using vegetable broth instead of chicken broth.

Why go gluten-free? This diet avoids gluten, a protein found in barley, wheat, rye and a wheat-rye hybrid called triticale. Gluten can cause discomfort or serious health issues in people with gluten sensitivity or celiac disease.

The Hy-Vee HealthMarket has a range of gluten-free foods and beverages, including baked goods, beer, bread, cereal, pasta, snacks, and more.

Keto Garlic Knots

People love the cheesy goodness of our original Garlic Knots recipe. And now it's tailored to meet the requirements of a keto diet!

Why go keto? Keto is short for ketogenic and aims to burn more fat by causing the body to enter the metabolic state of ketosis. It calls for high fat, moderate protein, and low carbohydrates.

Hy-Vee stocks many keto-friendly foods, including cheese crisps, ice cream, pancake mix, peanut butter snacks, plant-based noodles, pork rinds, snack bars, and sugar substitutes. 

Vegan Scalloped Potatoes

While our original recipe meets vegetarian standards, we've updated it to be vegan-friendly with nondairy cheese and vegan buttery sticks.

Why go vegan? Vegetarian and vegan diets are both plant-based. A vegetarian diet is meatless, and a vegan diet excludes all animal products, including meat, eggs, dairy, and honey.

Thanksgiving used to be a challenge for vegetarians and vegans, but there are more options today, including Tofurky roast and stuffing, available at Hy-Vee separately or as part of a Holiday Fest package that includes plant-based gravy and a dessert.

Dairy-Free Green Bean Casserole

This Thanksgiving staple now comes in a dairy-free version featuring roasted cashews, pancetta, and onion, with almond milk instead of dairy cream.

Why go dairy-free? Some people skip dairy products because they have milk allergies. Others aren't able to fully digest lactose, a natural sugar in milk, leading to gastrointestinal issues and discomfort.

Hy-Vee has a range of dairy-free options, including plant-based butter, cheese, ice cream, yogurt, and assorted frozen desserts.

Also find dairy-free milk made from almonds, soy, peas, rice, coconut, oats, or cashews.

For those who are lactose intolerant but don't want to give up dairy, Hy-Vee offers lactose-free products made from cow's milk.

Sugar-Free Molten Chocolate Cakes

This sugar-free version of our popular recipe still features an ooey-gooey molten center everyone loves.

Why go sugar-free? People may avoid sugar to lose weight or because of diabetes. Nearly 10 percent of the U.S. population has diabetes, a disease that occurs when blood glucose is too high and that causes serious health problems over time. Blood glucose comes from the foods we eat.

Hy-Vee has many sugar-free products, as well as sugar substitutes. There are also healthier snack options available, not to mention all the fresh and frozen produce you can imagine.