Primary Media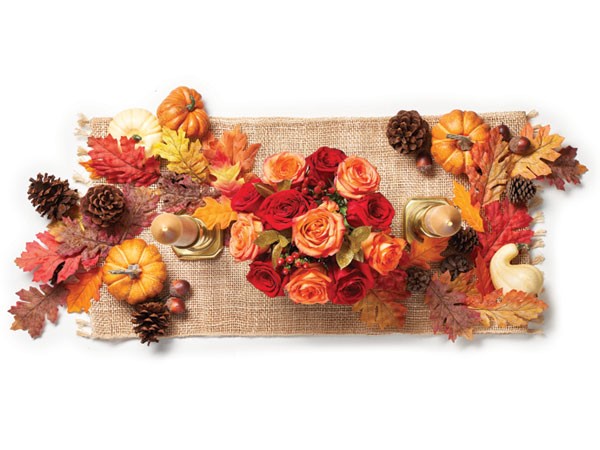 Description
Pick up a bouquet of beautiful roses from Hy-Vee to build one of three fall centerpieces—ranging from casual and simple to a full formal affair. Add-ons, like succulents, vases, and fresh produce, give each arrangement distinction. 

Need stunning table settings to go with your gorgeous DIY centerpieces? Check Thanksgiving table settings we're loving right now, and get everything Thanksgiving-related in our Thanksgiving Handbook.
Fresh and Natural

Aromas and flavors of fall inspire this holiday arrangement. Cut roses no more than 12-inches tall and arrange in al ow circular vase (or hollowed-out pumpkin if you're feeling extra-fancy). Place Hy-Vee birch logs and candles onto a wood paddle or cheeseboard with flowers in the center. Finish by layering with citrus leaves, bay leaves, and fresh fruit.

Succulent Selection

A wood crate bursts with color from roses, berries, and succulents—all found at Hy-Vee. Cut rose stems to 4-inches and fill the container with soil. Place succulents into the container, followed by roses and berries. Fill any remaining gaps with moss.

Rustic Burlap

This arrangement relies on classic fall themes to dress the table. Build a short, circular floral bouquet from the Hy-Vee roses and set on a burlap table runner. Arrange real or faux leaves in a curved pattern and top with mini pumpkins, gourds, pine cones, and acorns.