Primary Media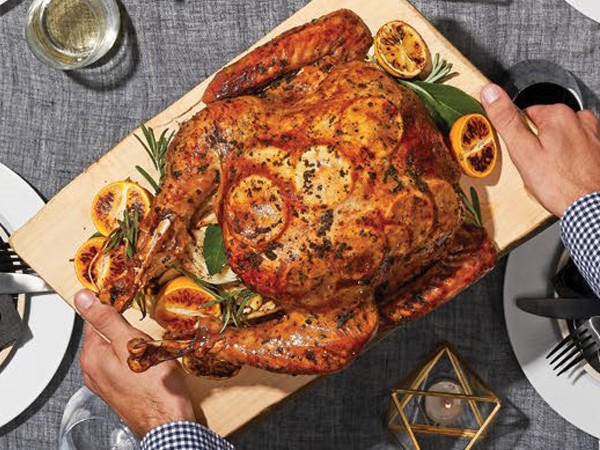 Description
Maybe you're hosting a smaller get-together this year, or maybe you're in charge of the Thanksgiving turkey. Don't let it overwhelm you! We've got you covered with our delicious whole turkey recipes that serve between 12-25 people, giving you plenty of yummy Thanksgiving leftovers. We've got some ideas for those, too.
Fresh Herb and Citrus Roast Turkey

A simple herb and citrus rub is all this Holiday bird needs. No butter and no brining means no extra fat or sodium.

Herb-Rubbed Turkey

A simple herb rub is all you need to make your Thanksgiving turkey the star of the meal.

French Herb-Roasted Turkey

Holiday turkey anyone? Dress up your bird by adding herbes de Provence and stuffing the cavity with lemons, blood oranges, and onions.

Thanksgiving Turkey with White Wine Herb Butter

This turkey is cooked low and slow, and it is so worth it! The meat stays juicy and falls off the bone. Plus, we've got the recipe for a never lumpy gravy.

Apple-Sage Brined Turkey

Brining with kosher salt and herbs ensures every slice is tender and juicy.

Roasted Turkey with Herbed Butter

From our chefs to you! This recipe is packed with fresh herbs to give it a mild herbed flavor. 

Thanksgiving Roast Turkey

Orange slices and thyme-infused butter under the skin—that the trick to this Thanksgiving bird.

Herb-Buttered Stuffed Turkey

Not only does this recipe come with a flavorful butter rub you can use on Thanksgiving sides, but it also is stuffed with a homemade stuffing made with Hy-Vee artisan bread.