Primary Media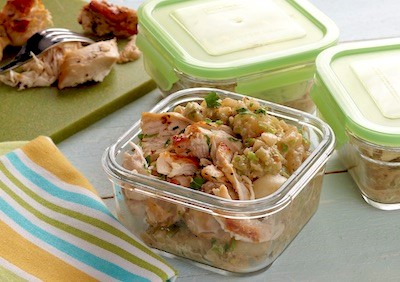 Description
Before you try to freeze every last scrap of Thanksgiving dinner, you should know, not all things freeze equally. Here's what's worth packing into the freezer, and what should be gobbled up. 
Freeze Fresh Herbs

Freeze any fresh herbs before they start to wilt. Trust us, you'll be glad you did. After all, Christmas is right around the corner.

One of our favorite ways to freeze fresh herbs is in butter or oil, and in about 1-inch cubes. Then you have little pats of herb butter or oil for cooking, slathering on bread, or seasoning meat.

Freeze Turkey

You can freeze cooked turkey in an airtight container or freezer bag. But we like to take a few extra minutes to make a turkey noodle soup. Once the soup cools, ladle it into a freezer bag, label it with the name and date, and stock the freezer for that night in a few weeks when you're craving a comforting turkey noodle soup.

Don't Freeze Stuffing

So, technically you can freeze stuffing, but depending on how much broth or liquid was used in the recipe, the quality may not hold up for long. You may have a mushy mess on your hands when you try to reheat it. Instead, we like to skip to step 5 in our Over-the-Top Stuffing recipe and call it breakfast.

Freeze Mac 'N' Cheese

Chances are, you won't have much leftover, but just in case you made oodles of it, you can in fact freeze mac 'n' cheese. We recommend freezing it in smaller (think single-serving) airtight containers. This makes it easier to reheat.

Or, if you're feeling really adventurous, get out the breadcrumbs and start frying.

Don't Freeze Mashed Potatoes

Just because you can freeze them, doesn't mean you should. Depending on how they were prepared, they may not hold up very well in the freezer. Plus, there are so many delicious and fun ways to cook with leftover mashed potatoes, like making a casserole, potato pancakes, or even a comforting twist on Eggs Benedict.

Don't Freeze Pies

Custard or cream pies especially have a lot of liquid and don't always reheat so nice after being frozen. Other pies, such as pumpkin, lose their creamy texture when frozen. Sorry, looks like we're all just going to have to tuck into a few extra slices. Breakfast is served.

And if you're feeling extra indulgent, get out the cookie cutter and start stacking.

Don't Freeze Green Bean Casserole

Cooked green beans don't like to hang out in the freezer, and neither do the crispy bits on top. This is another one you'll just have to eat up in a few days. Green Bean Casserole Grilled Cheese anyone? Maybe? Otherwise, you can pretty much put anything into an egg bake or frittata. Or just eat it with some leftover turkey and rolls for Thanksgiving, round 2. 

 

Freeze Wine

We know, who has leftover wine? But in the event you do, here's a fun trick that will make your future meals even more delicious.