Holidays
10 Hanukkah Recipes to Celebrate the Festival of Lights
Primary Media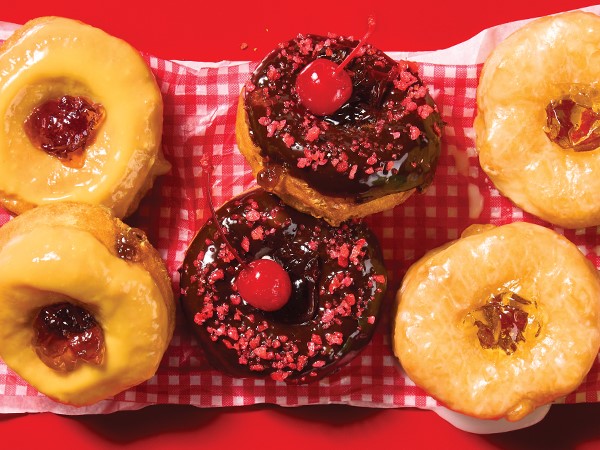 Description
Hanukkah is an eight-day Jewish holiday also known as the Festival of Lights. The annual celebration begins at sundown on the 25th day of the Jewish calendar month of Kislev. 
Hanukkah celebrates the reclamation of the holy temple in Jerusalem after the Syrian-Greek empire. As the story goes, when the ancient Jewish people returned to the temple, they found only enough oil to burn the lights of the temple's menorah for one day. However, the oil miraculously burned for eight days.
Traditionally, Hanukkah recipes use oil to honor the oil from the legendary story—which typically means a lot of fried foods are consumed! Other than fried desserts, some popular fried foods include Latkes (potato pancakes) and Sufganiyot (fried jelly-filled donuts).
Sufganiyot (Fried Jelly Donuts)

Sufganiyot, a Hebrew word, is a traditional fried-jelly donut dessert consumed during the holiday to symbolize the oil in the legendary Hanukkah story.

Latkes (Potato Pancakes)

Potato Pancakes, also known as Latkes, are a popular Hanukkah food. They are well-known symbols of the miraculous oil lasting eight days.

Applesauce

Some people top their Latkes with sour cream and some top them with applesauce! Make our homemade Golden Delicious Applesauce for your crispy Latkes.

Smoked Brisket

Brisket is enjoyed on many Jewish holidays, including Hanukkah.

Easy Mini Fried Pies

Easy Mini Fried Pies will be a delicious treat for your Hanukkah celebration.

Roasted Carrots

Roasted vegetables are a popular side dish with braised brisket.

Challah Bread

Challah is a traditional Jewish braided bread enjoyed at Shabbat throughout the year.

Cinnamon Churros

Cinnamon Churros are fried in oil, crispy and all sorts of sweet. They will be a hit during your Hanukkah celebration!

Potato Veggie Pancakes

There are many variations of Potato Pancakes you can enjoy during Hanukkah. In addition to potatoes, this variation is made with savory seasonings, onion and zucchini.

Fried Donuts

You can never have too many sweets on your Hanukkah dessert table. These Fried Donuts will be a family favorite.