Food Love
10 Terrific Taco Recipes That Don't Use Ground Beef
Primary Media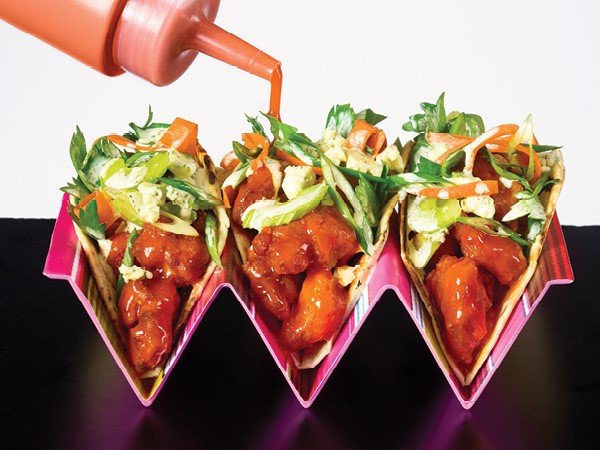 Description
Move over ground beef, there are some new tacos in town! Upgrade your taco tradition with recipes that put a spin on this popular food. Whether you prefer vegetarian, pork, chicken, or fish tacos, we've got something for you. We even have recipes using the air fryer, slow cooker, and Instant Pot for dinner made easy. 
Steak de Burgo Tacos

Steak tacos... yes please! Marinate the steak in a mixture of spices and then serve on homemade fry bread.

Vegetarian Tzatziki Tacos

Vegetarian tacos are all the range. Top flatbread naan rounds with roasted garbanzo beans, fresh veggies, hummus, and (of course) tzatziki sauce.

Buffalo Chicken Tacos

Love buffalo chicken? Serve it on a taco with additional buffalo sauce and a homemade carrot and celery slaw.

Fish Tacos with Apple Slaw

These tacos taste so fresh! Top charred tortillas with cod fillets and a fresh and flavorful slaw made with Honeycrisp apples.

Chile-Lime Mushroom Tacos

Looking for a quick and easy weeknight vegetarian taco? Saute mushrooms and top with your favorite taco toppings. 

Pressure Cooker Honey-Garlic Chicken Tacos

Time to get out your Instant Pot! Pressure cook chicken with a mixture of sweet and spicy ingredients and cook. Then shred and serve with your favorite toppings.

Slow Cooker Brisket Con Queso Tacos

Make these delicious brisket tacos in the slow cooker. What makes them even better? Serving them with queso.

Air Fryer Tilapia Tacos

Did someone say crispy fish tacos? We did! Air fry breaded tilapia for a crunchy fish taco you just can't beat.

Achiote Cauliflower Tacos

The slight peppery, and not so spicy, homemade achiote seasoning adds flavor to these vegetarian tacos. You won't even miss the meat in this taco recipe!

Choco Ice Cream Taco

Don't forget about dessert! Make these decadent tacos stuffed with It's Your Churn ice cream and dip in melted dark chocolate.