Primary Media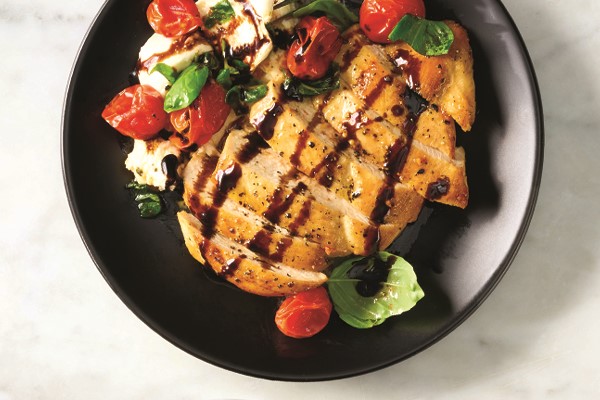 Description
When you buy chicken with the Hy-Vee True label, that means you're getting all-natural, cage-free meat that's truly delicious. No added hormones, no antibiotics — just deliciousness! We've gathered 8 of our favorite recipes made with Hy-Vee True chicken to show you just how good it is.
Citrus Chicken Fajitas

Marinate chicken in fresh citrus juice to bring all-new flavor to your fajitas.

Tandoori Chicken with Spicy Melon Salad

This dish is packed full of flavor! Top baked chicken with a spicy melon salad made with fresh fruit, jalapeño, honey, onions and parsley.

Grilled Balsamic Chicken with Strawberry Basil Glaze

Tired of plain grilled chicken? Add balsamic vinegar, strawberries and fresh basil for next-level flavor.

Charred Chicken Caprese

Pair charred chicken with balsamic vinegar, fresh mozzarella, basil and tomatoes to make a drool-worthy dinner.

Lemon-Chicken Vegetable Soup

Cozy up to a bowl of Lemon-Chicken Vegetable Soup that takes only 45 minutes to make. 

Grilled Greek Chicken and Sun-Dried Tomato Salads

Take your Greek salad up a notch by adding fresh tomatoes, feta cheese, asparagus and grilled chicken.

Butter Chicken Kabobs

Season your chicken with garam masala seasoning for a fiery and sweet flavor, and serve the kabobs on cooked rice.

Fresh Orange Juice Marinated Chicken

This chicken dinner brightens your plate with fresh cucumbers, oranges, peppers and dill.