Primary Media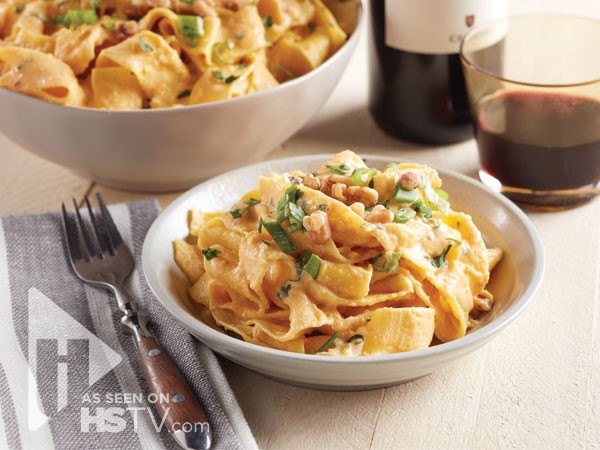 Description
Pappardelle with Gorgonzola Cream Sauce and Squash Puree

Large, flat pasta noodles known as Pappardelle are combined with a sweet and tangy gorgonzola and butternut squash puree.

Lasagna Bolognese

What's more Italian? The lasagna? Or the homemade bolognese sauce?

Spaghetti Puttanesca

This savory and salty sauce is made with capers and olives and is a traditional dish found in Naples, Italy.

Salsiccia Ragu with Maitake Mushrooms

"Salsiccia" means "sausage" in Italian. And this homemade ragu has plenty of it. 

Italian Sausage Alfredo with Mushooms

Alfredo lovers, Chef Edi made this recipe with you in mind.

Seafood Risotto

Risotto is a classic Italian favorite made from Arborio rice. If you ever find yourself on the coast of Italy, you might find a similar Seafood Risotto on the menu.

Spaghetti with Zucchini Pesto

Although we're all familiar with the traditional basil pesto, Edi added zucchini to add a fresh new twist to a classic Italian favorite.

Steak with Blue Cheese Risotto and Broccoli

Blue. Cheese. Risotto. Yes, this exists. Yes, Chef Edi paired it with steak. 

Ricotta Orecchiette Salsiccia with Broccoli and Bruschetta

No cream or butter required to make this creamy Orecchiette broccoli and sausage pasta. Serve with Bruschetta for the ultimate Italian weeknight meal.

Chicken Sorrentina with Fettuccine

Love chicken Parmesan? Then this recipe is for you. Sauteed chicken breasts are topped with melted fresh mozzarella cheese, pasta sauce, and fresh herbs.

Penne with Fried Eggplants

One of the most underappreciated Italian ingredients: eggplants. Chef Edi shows you how easy they are to prepare and just how delicious they are fried and tossed with penne rigate pasta.

Ravioli Gustare with Truffle Sauce

Use Gustare Vita ricotta and spinach ravioli as the base of this main dish and top with a homemade truffle pasta sauce and a salad with a garlic-ginger vinaigrette.