Food Love
7 Recipes for Easy Bento Box Breakfasts & Lunches
Primary Media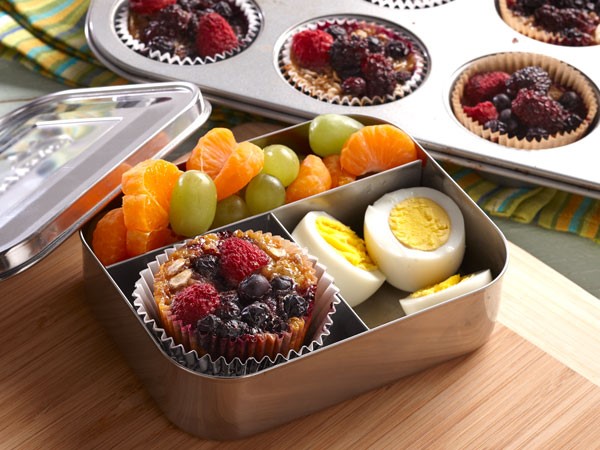 Description
Lunches don't have to be complicated. Get inspired with our bento box meal prep lunch ideas.
Baked Egg Muffin Bento Box

For breakfast, lunch, or dinner, 2 of these egg muffins pair well with 1 c. Hy-Vee Short Cuts apple slices and 1 c. Peaceful Piranha sweet potato fries.

350 calories, 13g protein, 33g carbohydrates. 

Vegetarian Apple and Yogurt Bento Box

Pack 4 oz. Hy-Vee vanilla yogurt, 1/2-oz walnuts, 2 tbsp. golden raisins, 1 sliced granny smith apple, 2 tbsp. almond butter and 1 multigrain sandwich thin for a filling meal lunch.

610 calories, 24g protein, 78g carbohydrates. 

Chicken and Citrus Bento Box

Place 2 oz. grilled chicken breast, 1 medium orange, 1/2 c. sliced cucumbers, 1/4 c. dried cranberries, 2 tbsp. almonds, 9 multigrain pita chips, and 3 tbsp hummus for a protein-packed lunch.

600 calories, 27g protein, 76g carbohydrates.

Baked Oatmeal Muffin Bento Box

For extra protein and sweetness, pair these oatmeal muffins with 2 Hy-Vee Short Cuts hard boiled eggs, 1/2 c. Hy-Vee Short Cuts green grapes, and 2 Hy-Vee Short Cuts peeled clementines. 

400 calories, 18g protein, 57g carbohydrates.

Spicy Garam Masala Chickpea Pita Bento Box

Pair this Chickpea Pitas recipe with 1 c. Hy-Vee Short Cuts pineapple chunks and 1/4 c. dry roasted edamame.

420 calories, 18 g protein, 64 carbohydrates.

Egg and Fruit Bento Box

This vegetarian lunch or snack pack is sure to keep you full. Pack 2 hard boiled eggs, 1 c. strawberries, 1 c. broccoli 0.75-oz. spreadable cheese, 15 red seedless grapes, 6 and multigrain crackers into a bento box.

410 calories, 20g protein, 46 carbohydrates.

Simple Ham Salad Bento Box

This one keeps lunch interesting. Pair this Simple Ham Salad recipe with 10 Hy-Vee Short Cuts carrot sticks, 15 gluten-free yellow corn chips, and 1/4 c. Peaceful Piranha sweet chili peanuts. 

490 calories, 16g protein, 41g carbohydrates.