Food Love
10 Beer and Ice Cream Floats That Work, and 1 That Doesn't
Primary Media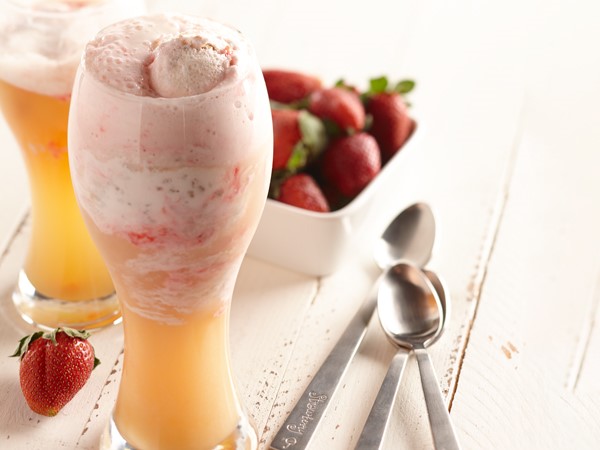 Description
If you like beer and you like root beer floats, you're the reason we researched a multitude of beer and ice cream pairings to come up with the ideal beer float. Or in this case, floats. By combining beers that have a slightly sweet taste with a complimentary flavor of ice cream, you can make a magical two-ingredient dessert.
Hefeweizen and Strawberry Cheesecake Ice Cream

For this winning combo, we used Til the Cows Come Home Strawberry Cheesecake Ice Cream. An instant success, the subtle flavors of banana and clove from the Hefeweizen are a perfect match for the ice cream's rich strawberry character.

Belgium-Style White Ale and Orange Sherbet

If you've ever had a Blue Moon, then you know it's always better served with an orange slice. So, it came as no surprise that the beer's even more lip-smackingly delicious with a scoop of Hy-Vee Orange Sherbet dropped in.

Porter and Chocolate Ice Cream

We all know that porter beers and chocolate go hand-in-hand. But making it a float takes this pairing to a whole new level. Travel back to your childhood with this adult version of a chocolate malt using Boulder Shake Chocolate Porter as the base and It's Your Churn chocolate ice cream.

Raspberry Sour Ale and Vanilla Gelato

To mimic the flavors of sweet-tart pie and ice cream, we paired a raspberry Berliner Weisse called Raspberry Jam from Tallgrass Brewing Co. with the rich-tasting Gustare Vita Vanilla Gelato to cut the sourness of the beer. What you end up with is a light-bodied and refreshing float that hits all the notes of pie and ice cream, or in this case, gelato.

Summer Shandy and Orange Sherbet

Sweet, sour, citrusy and refreshing. Summer Shandy is obviously a summer favorite. Making it even better? A scoop of Hy-Vee We All Scream! Orange Sherbet. It adds a creamy texture to the beer and brings out even more citrus notes.

Brown Ale and Espresso Ice Cream

Love espresso and chocolate? Pair Rogue Hazelnut Brown Nectar Ale with Til the Cows Come Home Espresso Yourself ice cream for a rich and flavorful beer float.

Stout and Cherry Ice Cream

Strong flavors of beer pair better with strong flavors of ice cream. That's why we had to try a generous scoop of Til the Cows Come Home Cherry-Amaretto Ice Cream in a stout. There's something strangely reminiscent of dark chocolate-covered cherries, and we're ok with that.

Shandy and Limoncello Gelato

If life gives you limoncello gelato, make a Shandy float. We sampled this one using Leinenkugel's Summer Shandy and Gustare Vita Limoncello Gelato. And it tastes just like summer days on the patio. The Shandy's light citrus notes are amped up by sweet and creamy lemon-flavored gelato. Pro tip: It's worth adding an extra scoop of gelato.

Pilsner and Cherry-Lime Sherbet

Bright, light, and mild. Pilsner Urquell Golden Lager makes the perfect base for Hy-Vee We All Scream Cherry Lime Sherbet or Rainbow Sherbet.  

Amber Lager and Salted Caramel Ice Cream

Love beer AND have a sweet tooth? You're going to love this pairing of Grain Belt Nordeast Amber Lager and It's Your Churn salted caramel pretzel ice cream. The sweetness of caramel marries with the maltiness of an amber lager for a delicious dessert.

The One That Didn't Work

We had high hopes for the beer float with IPA and pineapple ice cream, but we found that the bitterness of the IPA overruled the subtleness of the pineapple ice cream—no matter how much ice cream we added (and believe us, we tried). The lesson we learned is that it's best to pair strong beers with strong ice cream flavors and light beers with mild ice cream flavors.