Entertaining
11 Sparkling Wine and Champagne Terms to Help You Pick Better Bubbles
Primary Media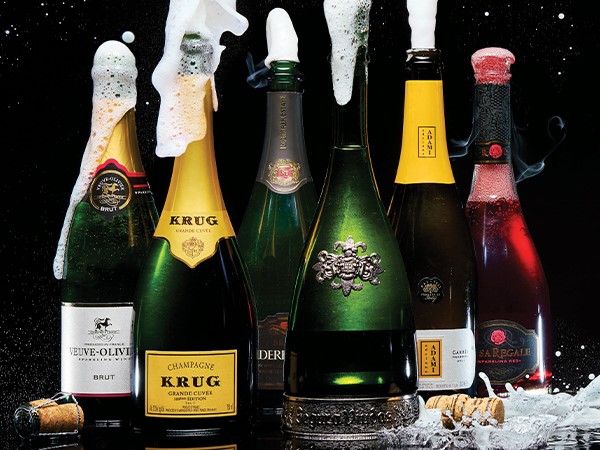 The Real Champagne

You might hear people refer to sparkling wines as Champagne, but that's incorrect! Champagne can only be made within a specific region of France, and producers must follow a strict set of rules on what grapes are used and how they are raised and harvested. The cooler climate and mineral-rich soils give Champagne a distinct flavor profile and crispness. 

Grape Variety

Real Champagne is only made with select grapes, either singly or in a combination. Pinot Noir, Chardonnay, and Pinot Meunier are the most common.

Charmat or Méthode Champenoise

The difference between these two methods for making sparkling wine is how the bubbles get in the bottle. The Charmat method is when the wine is fermented in large tanks and then bottled. Méthode Champenoise, which is the method used to make real Champagne and some sparkling wines not made in the Champagne region, is when sugar and yeast are added to each bottle, allowing the fermentation process to happen within the bottle. This process takes months, and sometimes years. In fact, real Champagne must age for a minimum of 15 months.

Hyvee Culinary Expert Tip

I love a lot of Non-Vintage Champagnes, like Moet et Chandon or Veuve Clicquot, but my favorite "everyday" Champagne is Vollereaux Brut Reserve. It's usually only $30 to $35 and so light and fresh.

Vintage Champagnes

Non-Vintage Champagnes are blends produced from a mix of grapes harvested from different years. Vintage Champagnes, however, are made from exceptional grapes harvested in a single year. They are also required to age much longer, at least years.

Prosecco

Pop a bottle and enjoy this popular sparkling wine from Italy! It's made primarily with Glera grapes, and also comes in a rosé variety. If you're looking for a fruiter wine than Champagne, this is an excellent choice.

Cava

Have you heard of Macabeu, Xarello, or Parellada? These grapes are primarily used in the Spanish wine Cava! It has a fresh, citrusy flavor that takes on different undertones depending on the grapes used.

Sekt

This sparkling wine comes from Germany or Austria, and is often made with Riesling grapes. It's more acidic with a slightly lower alcohol content for a tart, fresh, and crisp quality.

Asti

This popular wine comes from the Asti region in northwestern Italy. Made with Moscato grapes, it's light, fruity, sweet, and has a lower alcohol content.

Lambrusco

This red wine from northern Italy has a bold fruity flavor and a low alcohol content. The semi-sparkling wine can range from dry to very sweet, so there's a version for everyone.

Rosé

A fruity sparkling wine, it's super easy to pair with different foods. Plus, it's a fun pink color! What's more festive than that? 

Sweet or Dry?

Sparkling wines and Champagne range from dry to sweet. Below are 7 terms to look for on the label. 

Brut Nature (also called Brut Zero or Ultra Brut) = bone dry, no sweetness.

Extra Brut = little to no sweetness.

Brut = the most common style with very little to no detectable sweetness; 95% of Champagne is labeled Brut.

Extra Dry (or Extra Sec) = just a hint of sweetness, residual sugars barely perceptible; some might say "off dry."

Dry (also called Sec) = noticeable, but lightly sweet.

Demi-Sec = semi-sweet to moderately sweet, but not a true dessert wine. 

Doux = the sweetest, but rarely produced or sold commercially anymore.