Primary Media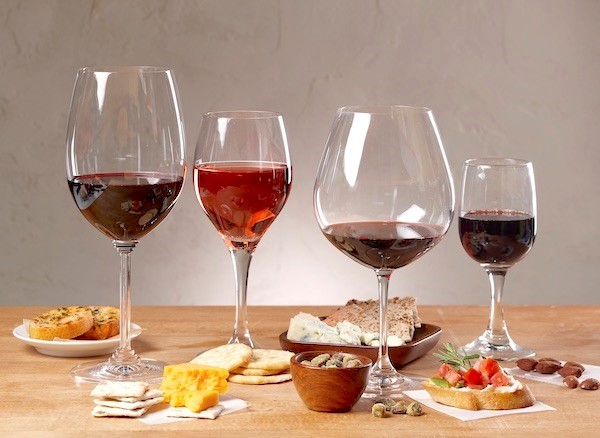 Description
We're not suggesting that you stock up on a dozen different styles of wine glasses. But if you mostly drink a certain kind of wine, it's worth having the right glass. The appropriate shape will help enhance the aromas and flavors in your favorite vino.
Cabernet or Bordeaux

From left to right: Cabernet, Rosé, Pinot Noir, and Port

For full-bodied red wines like Cabernet, Bordeaux, and Syrah, reach for a large glass with slightly sloping sides and a large bowl. The shape helps deliver more aroma compounds and enhances the smell of the wine.

Rosé

The long stem on a Rose glass ensures that heat from your hand won't affect the temperature of the wine. You might also see Rose glasses with a flared lip, which helps direct the wine to the tip of tongue—where the most sweetness is detected. 

Pinot Noir or Burgundy

For light-bodied red wines, a large bowl and narrower top allows aromas to accumulate. The shape also helps direct the wine to the tip of your tongue as your drinking. This helps you detect some of the more delicate flavors. 

Port or Dessert Wine

Dessert wine glasses are often smaller, due to the level of sweetness and sometimes high alcohol content of dessert wines. A port glass, for examples, has a narrow mouth to concentrate the aromas and is designed to direct the wine the center of your mouth. 

Sauvignon Blanc

From left to right: Sauvignon Blanc, Champagne or Sparkling Wine, and Chardonnay

For lighter white wines, such as Sauvignon Blanc and Pinto Grigio, a tall glass with a somewhat slim bowl will help guide floral and fruit aromas to the nose. 

Champagne and Sparkling Wine

Chardonnay

For full-bodied white wines, such as oaked Chardonnay, a larger bowl allows a bouquet of aromas to develop while its dimensions help balance out the wine.