How-to Article
How-To
How to Make Homemade Soft Pretzels
Primary Media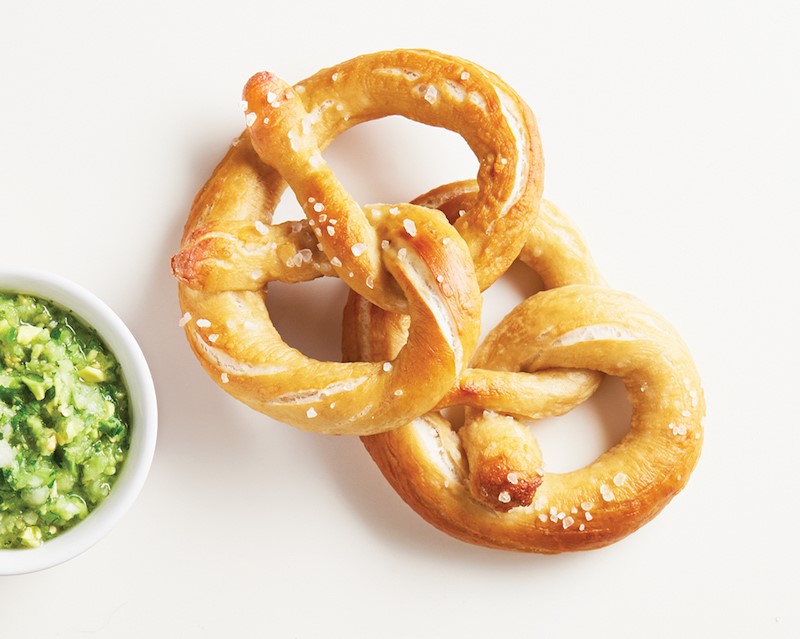 Description
Step up your game with soft and chewy pretzels.
Directions
Turn the dough out onto a slightly oiled work surface and divide into 8 equal pieces. Roll each piece of dough into a rope about 24-inches long.

Hyvee Culinary Expert Tip

Pump up the flavor by stuffing pretzels with cheese, peanut butter or other flavor add-ins. Start by rolling dough into a flat rectangle about 1/8-inch-thick. Sprinkle or place ingredients in a thin layer across the dough. By hand, roll up the dough so it is smooth with no creases. Seal it tightly.

Make a U-shape with the rope. Holding the ends of the rope gently, cross them over each other twice, forming the twist.

Lift the rope ends and press them into the bottom of the U, forming the pretzel shape. Place onto a parchment-lined baking sheet.

Bring 10 cups of water and 2/3 cup baking soda to a rolling boil in an 8-quart saucepan. Place the pretzels one at a time into the water for 30 seconds each. Remove pretzels from water using a large flat slotted spatula.

After boiling, return each pretzel to the baking sheet. Brush the tops with the beaten egg yolk and water mixture and sprinkle with pretzel salt.

Bake until dark golden brown, approximately 12 to 14 minutes. Transfer to a cooling rack for at least 5 minutes before serving.
Help us make this page better!