Living: Family
5 of the Easiest Dessert Recipes and Ideas to Make for Mother's Day
Primary Media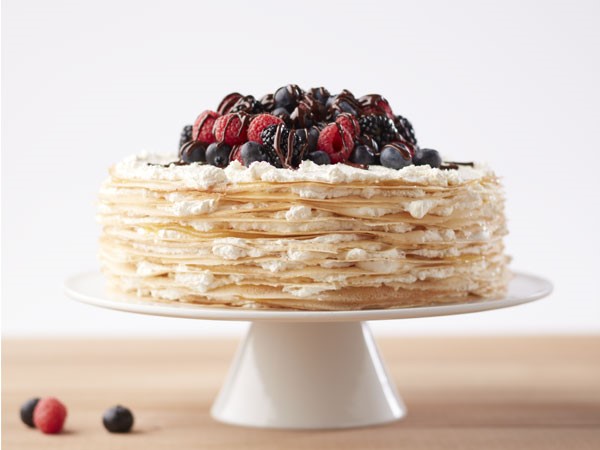 Description
Transform ice cream into a homemade pie; give ordinary cupcakes a gourmet topping; or whip up a dessert dip using a box of brownie mix. Here you'll find the easiest-ever desserts to make for Mother's Day.
Turn Pre-Packaged Crepes into Cake

Use premade crepes and whipped topping to make an impressive cake that's not your ordinary coffee cake.

Turn Brownies and Ice Cream into Cake

Line a 9x5-inch loaf pan with parchment paper leaving 1-inch of paper hanging over each side. Spoon in your favorite flavor of ice cream and top with a layer of brownies. Cover and freeze for 8 to 24 hours. To serve, use parchment to lift dessert out of pan and peel off parchment paper.

Turn Banana Bread into Truffles

Place Hy-Vee Bakery banana bread in a large mixing bowl. Using your hands, crumble banana bread into fine crumbs. Add enough cream cream cheese frosting to get banana bread to stick together. Roll into 2-inch balls. Melt vanilla almond bark according to package directions. Using two forks, dip truffles into almond bark letting excess drip off. Place onto a large baking sheet lined with parchment paper and refrigerate until set.

Turn Ice Cream into Pie

Slightly thaw your favorite ice cream until it is soft enough to scoop. Spread ice cream evenly into a ready-to-use graham cracker or chocolate crumb pie crust. Top with nuts, sprinkles, caramel sauce, or whatever Mom's favorite topping is and freeze. Keep frozen until ready to serve.

Turn Brownie Mix Into a Chocolate Fondue

Place 3 Hy-Vee Bakery donut holes on a 10-inch bamboo or wooden skewer; set aside. In a large bowl, combine a box of brownie mix, 3 6-oz containers of vanilla yogurt and 2 cups of frozen whipped topping (thawed), stirring until smooth. Then get dipping.

P.S. This is also fantastic with strawberries, bananas, angel food cake, and graham crackers.