Holidays
9 Easy Holiday Apps to Help You Stress Less
Primary Media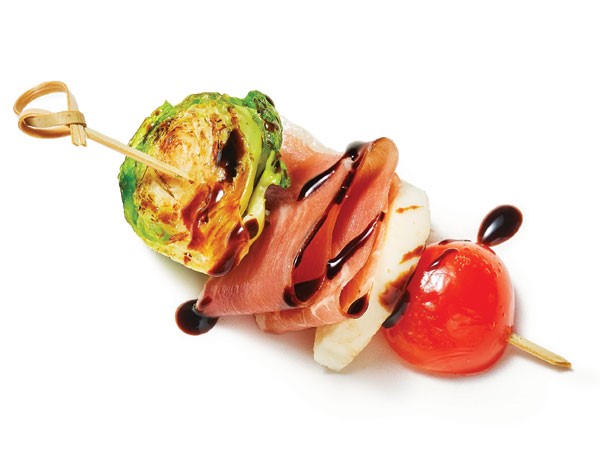 Description
Wondering what to serve at your Thanksgiving or Christmas party? Did the hostess ask you to bring an appetizer? Easy apps to the rescue!
Sausage Stars

Brown 1/2-lb. Italian pork sausage; drain. Return sausage to skillet. Stir in 2 cups Hy-Vee shredded Cheddar cheese, 1/2 (4.25-oz.) can drained Hy-Vee chopped ripe olives, and 1/2 (1.2-oz.)  pkt. Hy-Vee dry ranch dressing mix; heat through. Cut use a 1-1/2-inch star cookie cutter to cut star shapes out of 30 (1/4-inch-thick) apple slices. Top with sausage mixture. Serves 30.

Shrimp Starter

Thaw and peel 14 Hy-Vee Fish Market frozen raw shrimp (26-to30-ct.); pat dry. Toss with 1 tablespoon Gustare Vita garlic-flavored olive oil, and 3/4 teaspoon taco seasoning. Cook shrimp in skillet until opaque (145 degrees). Chill. Divide 1/2 cup Hy-Vee guacamole among 14 partially peeled cucumber slices; top with shrimp. Sprinkle with additional taco seasoning. Serves 14.

Mac 'N' Cheese Bombs

Combine 2 cups Hy-Vee Kitchen white Cheddar mac and cheese, 1/2 cup crushed Hy-Vee nacho-flavored tortilla chips, and 2 tablespoons Hy-Vee Hickory House Big Bad tangy buffalo wing sauce. Spoon into 15 mini muffin cups. Bake at 350 degrees for 30 minutes. Serve bombs on Hy-Vee tortilla chips with additional wing sauce, if desired. Serves 15.

Plum-Apricot Meatballs

Mix 3/4 cup each ketchup, plum jam, and apricot preserves in a 2-quart baking dish. Add one 14-oz. pkg. Hy-Vee frozen beef or homestyle meatballs. Bake, covered, 30 minutes. Skewer fresh basil, pepper Jack cheese squares, and a meatball onto each appetizer pick. Serves 25.

Beet-Orange Endive

Spread fresh goat cheese on desired amount of Belgian endive leaves. Top with desired amounts of sliced canned pickled beets, orange sections, and candied pecans.

Sprout Kabobs

Toss 16 Hy-Vee Short Cuts Brussels sprout halves with 1 tablespoon Gustare Vita garlic-flavored olive oil and 2 teaspoons Hy-Vee Select balsamic glaze. bake at 375 degrees for 15 to 18 minutes or until tender. Cut 1/2 (2-oz.) pkg. sliced prosciutto into 16 pieces. Skewer sprouts, prosciutto, halved mozzarella cheese log slices, and halved cherry tomatoes onto picks; drizzle with additional balsamic glaze. Serves 16.

Crab Salad Toasts

Preheat oven to 400 degrees. Place 12 thin slices pumpernickel cocktail bread in a single layer on a large rimmed baking pan. Lightly spray with Hy-Vee nonstick cooking spray. Bake for 6 to 8 minutes or until lightly toasted, turning once halfway through. Cool. Top each bread slice with about 1-1/2 tablespoon Hy-Vee Deli imitation crab salad and, if desired, garnish with fresh dill. Serves 12.

Mango Salsa Cups

Spray 30 mini muffin cups with Hy-Vee nonstick cooking spray. Line each with a wonton wrap; bake at 350 degrees until golden. Combine 1 cup chopped fresh mango, 1/4 cup Hy-Vee Short Cuts chopped red onions, 1/3 cup pomegranate seeds, 2 tablespoons finely chopped fresh cilantro, and 1 tablespoon fresh lime juice. Season with Hy-Vee salt and cayenne pepper. Divide salsa among cups. Serves 30

Cranberry Cheese Bites

Combine 1/2 (1/4-oz.) can Hy-Vee whole berry cranberry sauce, 1 teaspoon prepared horseradish, 1/2 teaspoon Hy-Vee Dijon mustard, and 1/2 teaspoon Hy-Vee granulated sugar. Using 1 (8-oz.) pkg. softened Hy-Vee cream cheese and 1 (4.4-oz.) box Chesapeak round multigrain crackers, spread cream cheese on crackers. Top with cranberry mixture and, if desired, chopped pistachios. Serves 12.