Primary Media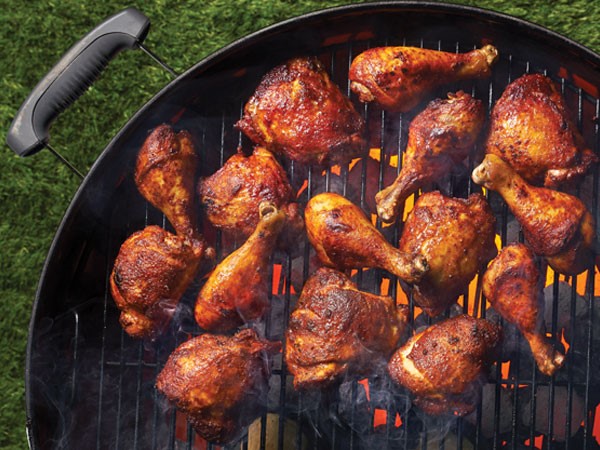 Description
Want flavorful, smoky, fall-off the bone meat? Everyone does! These recipes take some time to prepare, but, we promise, they will be 100-percent worth it. Reach for your smoker or get tips for using your charcoal or gas grill for smoking.
Kentucky-Style Smoked Pork Chops

For extra juicy pork chops, use a brine! Then break out your soaked wood chips and place directly on the coals of a charcoal grill. Or, make a smoking pouch if you're using a gas grill.

Hyvee Culinary Expert Tip

To make a smoking pouch, place soaked wood chips on a double layer of heavy foil and wrap tightly, enclosing ends. Poke holes all over packet to allow air in and smoke out.

Carolina Smoked Chicken

Chicken drumsticks and thighs are some of the most tender cuts of chicken you can find. Cook them low and slow on the grill for a tender texture and use your favorite flavor of wood chips to bring out a smoky flavor.

Southern-Style Pulled Pork

Pulled pork is a summertime classic. Give this classic a little something special by breaking out your smoker.

Chef Mark's Smoked Brisket

Thinly sliced smoked brisket is perfect for making sandwiches throughout the week. Break out your smoker on the weekend and reap the benefits all week long.

Texas-Style Beef Short Ribs

Marinating these meaty short ribs overnight makes them extra tender. To take them over the top, utilize your smoker.

Grill-Smoked Chicken

This smoked chicken recipe makes 2 (5-lbs. each) whole brined and smoked chickens. That means all of your low and slow cooking will give you leftovers you can enjoy for many nights to come.

Grill Smoked Baby Back Ribs

You've never had baby back ribs that taste like this. Get our Meat Manager's Pit Master barbecue recipe for Grill-Smoked Baby Back Ribs.

Kansas City-Style Brisket Burnt Ends

Cooked low and slow on a smoker, toss these burnt ends with barbecue sauce and brown sugar for a caramelized flavor.