Primary Media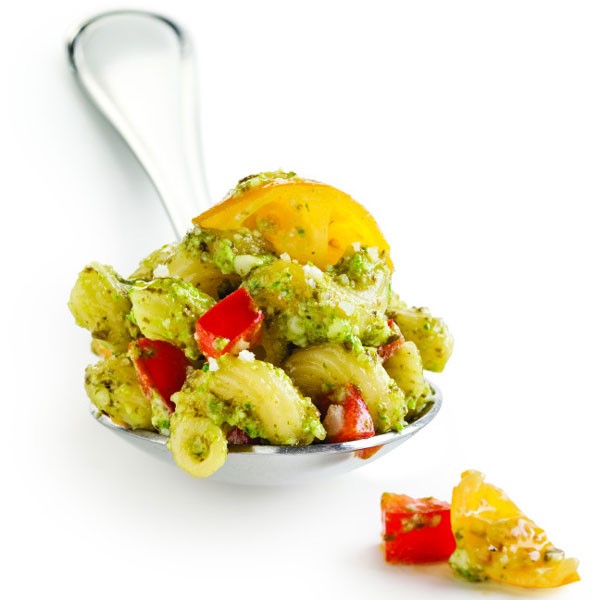 Description
This stuff can make anything taste gourmet. Instantly. Here are some of our favorite ways to use this basil-packed sauce.
Really Quick Appetizers

When you need a quick and simple appetizer, pesto is your best friend. Spread it on crackers, crostini, or a round of brie cheese. Top with bruschetta. Done.

Swirl into Soup

Soup a little bland? Drop a spoonful of pesto in. Problem solved.

Brush on Grilled Meats & Seafood

Say bah-bye to the same old marinade. Try giving chicken, steak, and seafood a healthy coating of pesto before grilling.

In a Salad Like No Other

In a large mason jar, layer pesto, fresh mozzarella, cherry tomatoes, cooked pasta, and spinach. Lunch. Is. Made.

We Love Red Sauce, But...

Pesto plus pasta is a no-fail option for lunch or dinner. Use pesto to replace red sauce or in place of dressing for a chilled pasta salad.

Don't Forget About Vegetable "Pasta"

Veggie noodles like spaghetti squash or zucchini ribbons are often used to replace pasta. Make a meal out of them by tossing them with fresh pesto and chickpeas.

Italian Fries

Whether you're heating up frozen fries or making roasted potato wedges, using pesto instead of ketchup just might change the way you eat fries forever. The same can be said for tots.

Pesto Pizza

Why limit yourself to red or white sauce on pizza? Try using pesto instead.

Green Eggs and ... Avocado

Next time you make deviled eggs, go for the green. There's something about the combination of buttery avocado and basil pesto mixed with the creamy yolk filling that will have everyone reaching for another.

Pesto Mayo on Everything

Mix pesto with a little mayo to make the ultimate sauce for burgers, grilled cheese, deli sandwiches, and anything you want to taste ridiculously good.