Food Love
How to Eat Like an Italian (And Never Grow Old)
Primary Media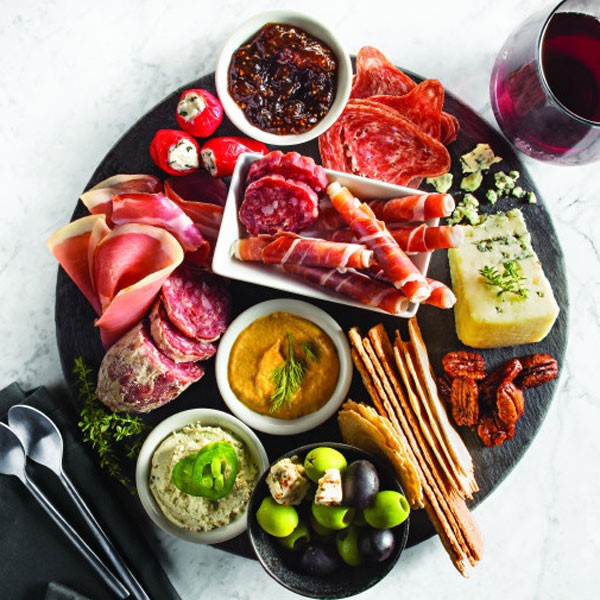 Description
A tavola non si invecchia mai. This Italian proverb translates to "you never grow old at the dinner table." We like the sound of that. So pull up a chair with loved ones and savor the many courses of a traditional Italian meal.
Enjoy a Pre-Dinner Aperitivo

Similar to a cocktail hour, the aperitivo gives diners a chance to talk and sip on drinks such as wine, Prosecco, spritz, or vermouth. These beverages are commonly accompanied by small portions of olives, nuts, cheeses, dips, and other finger foods.

Start with Antipasti

Antipasti, traditionally the first course of a formal Italian dinner, is a sampling of meats and small bites. Charcuterie boards consisting of salami, mortadella, and/or prosciutto with various cheeses signals the start of the meal. For a fun play on tradition, you could also try a "seafooderie" board, featuring a variety of smoked fish.

Primi: The First Course

Literally translated to mean "first," this stage of the meal introduces hot foods. Although meat and seafood can play a role in these dishes, they are typically not the star. Common primis include risotto, pasta, soup, polenta, lasagna, and gnocchi.

Then Comes Secondi

Translating to mean, you guessed it, "second," this course contains the main entrées. Chicken, beef, pork, lamb, turkey, shrimp, lobster, and other seafood can all be found on a classic Italian menu.

Contorni (Side Dishes)

Keep your sides on the side. Italians do not believe in allowing their flavors to lose integrity, which can happen if your side dish is served on the same plate as the meat or main entrée. That's why contorni, generally a vegetable side of some sort, is served on a separate plate.

Or Maybe Some Salad

If vegetables are not served as contorni, a leafy green salad or vegetable plate may follow the secondi.

This Part's Your Jam

It doesn't get much better than this—Formaggi is an entire course dedicated to cheeses, seasonal fruits, and sweet jams. In Italy, the decadent duo of cheese and fruit may even be considered dessert.

Unless You Have a Sweet Tooth

That's when dolce hits the table. This sweet take on dessert might include tiramisu, torta, panna cotta, sorbet, or gelato.

Caffè Time

Italians can't get enough coffee. After the meal, a strong espresso without cream or sugar is served.

Time to Digestivo

Just when you think you couldn't possibly enjoy a meal any more, Italians bring out the digestive, a strong alcoholic liqueur, such as grappa or limoncello, to help ease digestion. We'll cheers to that. Salute!