Primary Media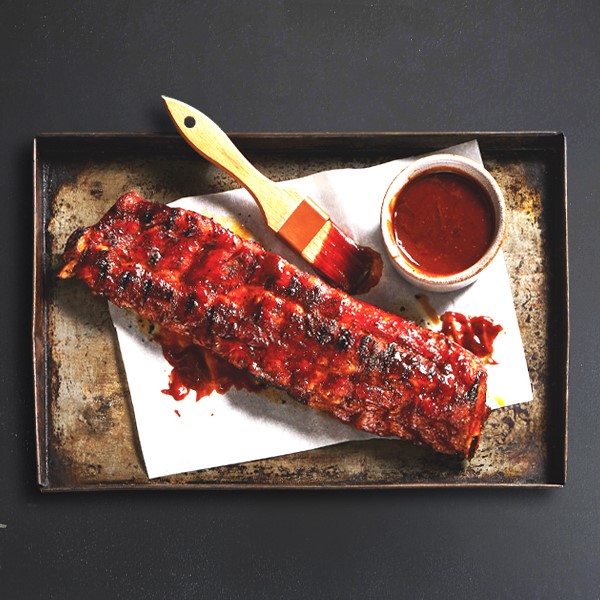 Description
What's the difference between Memphis-style ribs, Carolina-style ribs, Texas-style ribs, and Kansas City-style ribs? We're so glad you asked. Here we'll share what makes each regional flavor unique for the next time you grill ribs, which we recommend you do sooner than later.
For more grilling ideas, check out our Grilling Guide.
Order everything you need for your next cookout from Aisles Online.
Memphis-Style Ribs

Ribs are this city's specialty! Experience juicy, tender pork loin baby backs given a dry rub containing paprika, cumin and other spices, then finished with a thin, not-too-spicy tomato-based sauce that adds just a hint of sweetness.

The sauce: Memphis sauce, made with tomatoes, vinegar and spices, is generally thin and not too spicy, with a hint of sweetness. In Memphis- style BBQ, sauce is often brushed on ribs toward the end of cooking or served alongside dry ribs.

The rub: Memphis-style rubs consist of salt, brown sugar, onion and a variety of spices. Apply rub evenly, then let the meat stand at least 30 minutes, or wrap and chill it overnight before grilling. Also use the rub on other pork cuts or chicken.

 

Carolina-Style Ribs

Spareribs, like any other pork, shine in the Carolinas and they are slathered different ways—with tomato- and ketchup- based sauce in the west, vinegar and hot pepper sauce in the east and a mustard-base sauce in the central region.

The sauce: Thin, vinegar-based sauces typify Western Carolina BBQ; tangy mustard-based sauces represent the South. Mop sauces with cider vinegar, brown sugar and cayenne pepper are common for marinating and basting grilled meat.

The rub: Pork is the traditional meat of choice for Carolina barbecue, and the sugar-based rubs here are balanced with garlic and savory spices. In addition to ribs, the rubs boost flavor for sweet corn and potatoes.

Hyvee Culinary Expert Tip

Toward the end of grilling, lift a rack of ribs, bone side up, at one end with tongs. If the rack bends easily, the ribs are close to being done. At that time, check the internal temperature.

Texas-Style Ribs

Nothing short on these meaty Texas-style beef short ribs, especially flavor and size. Savor irresistible flavors from the sweet and spicy dry rub and mesquite wood chips that carry the tune of the Lone Star State.

The sauce: Spicier, less-sweet sauce flavored with chili powder, ancho powder, hot sauce and cumin is typical to add richness and depth to grilled or smoked Texas-style ribs and other beef cuts.

The rub: The big taste of Texas BBQ comes through in smoky blends of robust spices that have hints of sweetness. Try these rubs, such as the McCormick Grill Mates Mesquite rub or Big Moe Cason beef rub on your favorite cut of ribs at your next cowboy-inspired cookout.

 

Kansas City-Style Ribs

Kansas City is a melting pot when it comes to barbecue traditions and styles. Savor regional flavors on St. Louis-style spareribs jazzed up with a spicy dry rub—then finished with tangy, sweet, tomato-based barbecue sauce.

The sauce: Sweet, thick and tangy tomato-based sauce makes KC-style beef or pork ribs stand out. Sauces contain ketchup, sugar, vinegar and molasses as well as cayenne and other spices. The sauce coats well when brushed on ribs for out-of-this- world flavor.

The rub: Like the sauce, KC-style rubs are on the sweet side. A typical rub has about a two-to-one ratio of brown sugar to the usual dry rub spices, including chili powder, paprika, garlic and onion powders and cayenne pepper—a nice balance of sweet and savory with a slight kick.