Primary Media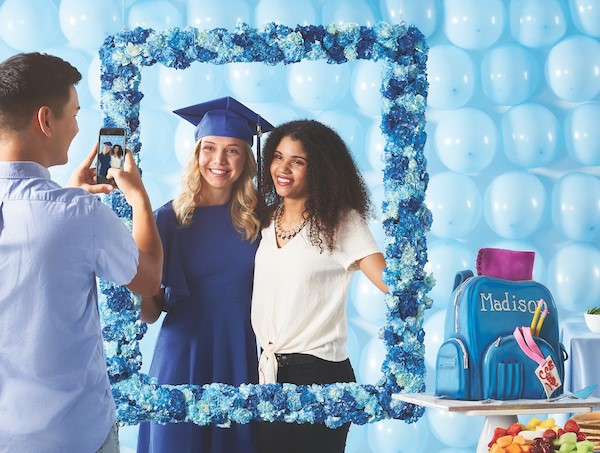 Description
Graduation is one of the biggest moments in a high school or college student's life. Make them feel special with a celebration that rises to the occasion! Use our graduation party planning timeline to stay organized and prepare for an A+ bash.
And keep in mind, Hy-Vee can help you pull off an amazing celebration—whether you have 8 weeks to plan or one.
8 Weeks Before

Finalize the date. Check your personal calendar and the school calendar to make sure you don't have any big conflicts. Also check with the neighbors to make sure parties don't overlap—that could make parking tricky!

Decide on a budget. Remember, our catering team can help you pull off an awesome celebration on any budget.

Choose a theme. The sky's the limit with your theme. Some of our favorites include luaus, taco fiestas, sports, travel, #HyChi & sushi bars, or anything that involves a chocolate fountain.

Reserve party tents, catering, tables, chairs, etc. You'll need a rough estimate of how many guests to expect. Then decide on where you want to set up. If you go outdoors, consider getting a tent in case it rains. Also check with neighbors and friends to see what they could lend you for the big day.

Order invitations. Often graduation announcements are included in senior portrait packages, but you could also do custom invitations from a local printer or online vendor, or go with generic invites from your favorite party supply store.

6 Weeks Before

Mail invites. Give your out-of-town guests plenty of notice so they can attend or send a gift if they'd like.

Plan your menu. We've got more than a few specialty buffets as part of our catering packages. Consider dessert options. Will you do a show-stopping cake? Gourmet cupcakes? Graduation cookie cakes? Custom sheet cake (yum!)? If you're doing some or all of the cooking, make a grocery list. Don't forget about plates, cups, napkins, and cutlery!

Plan and prepare decorations. Stop by our floral shop to see some of the crafty things we're doing with flowers, balloons, and fun photo props for grad parties.

4 Weeks Before

Place your catering and bakery order. It's best to place large orders as soon as possible, but remember, we're ready to help you—even if your party is just days away.

Finalize your floral decor. Remember to ask about delivery options for centerpieces and special arrangements.

Shop for a party outfit. Take a break from the planning and go on a virtual or in-person shopping spree!

Buy a guestbook. This is a great way to keep track of everyone who came to support the graduate. You could also do fun twists on a guestbook! For example, have guests sign a poster or photo board that will be a treasured keepsake.

Hand out invites at school. Specifically for high school grads, start passing out invites to your classmates!

1 Week Before

Finalize your guest list based on RSVPs. Let your caterer and baker know your final guest count and if you will need to adjust your order size. Plan on how many extra tables and chairs you'll need and where to place them.

Put final touches on decor. Create photo boards or a slideshow. Ask your grad to help you with a playlist for the big day.

Get groceries. If you're not going with catering, purchase all your groceries and prepare food that can be easily frozen and reheated.

Gather last-minute needs. Purchase any additional non-perishable food items, drinks, utensils, plates, or cups that may not be included in your catering plan. You can even do it all online. Consider if you'll need to borrow coolers for storing drinks or ice.

Check the weather. If it's looking rainy or windy, create a backup plan just in case.

Day Before

Prepare your home. If you're partying at home, clean the house and manicure the lawn. Stock bathrooms with extra bath tissue and towels. Tell the neighbors about the party and potential parking situation.

Set up. Pick up any rentals and set up tables, chairs, tents, etc. Put out garbage bins with extra liners in the bottom. 

Stock up on ice. Make sure you have enough cooler space for beverages.

Morning Of

Place decorations. Tie balloons to the mailbox or set out a party identifier. Set up a table for gifts and cards.

Charge your phone. You'll need it for the party playlist and to take photos.

Party Time

Bring out the food. Set it out in a pleasing and practical arrangement half an hour before the party starts. Be sure to include cups, plates, napkins, and cutlery! Fill and label coolers.  

Celebrate, celebrate, celebrate! Hit play on the music and get ready to smile. Take lots of photos, but be sure to take some time to really enjoy this moment as well. You'll remember it for years to come!

 

For more graduation party ideas, check out 8 Recipes and Ideas for an Open House Graduation Party.