Primary Media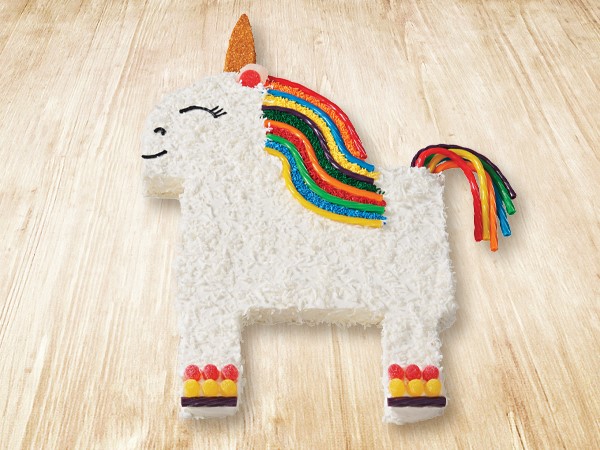 Description
These cakes are perfect for any occasion! Make your favorite chocolate or vanilla sheet cake, or order a half-sheet cake from your local Hy-Vee Bakery. Then, follow our easy directions to take these cakes over-the-top. 
Construction Zone Cake

For caution tape, pipe black-and-yellow-tinted frostings on sides of a chocolate-iced Hy-Vee Bakery half-sheet cake. Add construction toys, crushed Hy-Vee sandwich cookies, malted milk balls, chewy caramels, and cut-up mini chocolate bars. For cones, use melted chocolate to attach Hy-Vee candy corn to mini chocolate bars. 

Stenciled Cereal

Cut a letter or number out of paper. Place cutout on a Hy-Vee Bakery half-sheet vanilla or chocolate cake frosted with vanilla buttercream. Sprinkle Fruity Pebbles cereal on top, pressing cereal into frosting. Remove and discard cutout. 

Unicorn and Rainbows

Cut an unfrosted Hy-Vee Bakery vanilla half-sheet cake into a unicorn shape. Spread Hy-Vee creamy white frosting on cake; sprinkle with unsweetened coconut flakes. Coat the horn with gold sprinkles. Add candy straws and jimmies for mane and tail and Hy-Vee spice drops and gumdrops for ear and hooves. Pipe melted dark chocolate for face. 

Fresh and Fruity

Pipe a decorative icing border along the bottom of a Hy-Vee Bakery vanilla buttercream-frosting half-sheet cake. Top with Hy-Vee Short Cuts sliced strawberries, raspberries, plum slices, and mint leaves. Sift Hy-Vee powdered sugar over fruit.

Flowering Cactus

Cut a Hy-Vee Bakery unfrosted half-sheet cake into a cactus shape; reserve trimmings for another use. Tint Hy-Vee creamy white frosting with green food coloring; spread on top and sides of cake. Decorate with white sprinkles and decorative candies. 

In Full Bloom

Pipe dots of icing on a Hy-Vee Bakery vanilla buttercream-frosting half-sheet cake. Accent the cake with pops of white and bright pink food-safe mums and carnations from your Hy-Vee Floral Department.