Recipe
Primary Media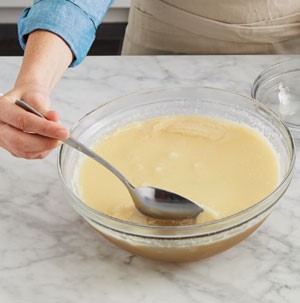 Description
For richer body, use the bony pieces of chicken (back, neck and wings). For meatier flavor, use a whole chicken.
Servings and Ingredients
| Quantity | Ingredient | Add |
| --- | --- | --- |
| 1 | (5- to 6-pound) roasting chicken | |
| 3 stalk(s) | celery with leaves, cut up | |
| 2 | medium parsnips, peeled and cut up | |
| 2 | medium carrots, unpeeled and cut up | |
| 2 | large onions, unpeeled and cut up | |
| 2 head(s) | garlic, unpeeled and halved | |
| 1 tsp. | Hy-Vee salt | |
| 4 sprig(s) | each fresh parsley, thyme, sage and basil | |
| 4 | bay leaves | |
| 1 tsp. | Hy-Vee whole black peppercorns | |
| | Cold water | |
Directions
Place chicken in an 8-quart stockpot. Add celery, parsnips, carrots, onions, garlic and salt.

Bundle the parsley, thyme, sage, basil, bay leaves and peppercorns together in several thicknesses of 100-percent-cotton cheesecloth; tie with kitchen string to form a bag. Add to stockpot.

Fill stockpot with cold water to cover ingredients by 2 inches. Slowly bring water to boiling; reduce heat. Simmer, covered, for 3 hours.

While the starter is simmering, use a small strainer to skim the fat and impurities off the top of the surface.

Remove chicken from stockpot; let cool.* Strain the starter into a large bowl through two layers of 100-percent-cotton cheesecloth placed in a colander or large strainer. Discard vegetables and seasonings.

If using the starter while hot, skim off fat. Using a fat-separating pitcher, let fat rise to the top, then pour the starter from the spout. (Or use a spoon to skim away fat floating on the surface.)

If storing the starter for later use, cool it quickly by placing the hot bowl, uncovered, in another bowl of ice water. Stir starter occasionally. Once the starter is cooled, cover and chill for several hours or until firm. Lift off the fat layer with a spoon.

Place the starter in an airtight storage container. Cover and chill for up to 3 days. Or transfer starter to a freezer container. Cover and freeze for up to 6 months.

*Note: The chicken meat will be dry after simmering for several hours but can be reserved and used for soups or casseroles. Discard chicken bones and skin.
Recipe Source:
Hy-Vee Seasons Fall 2014.